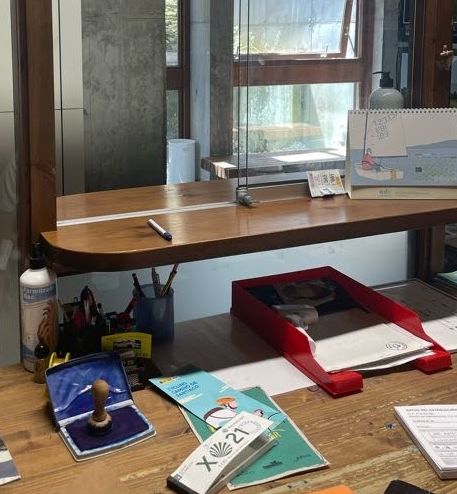 A day spent in Albergue
---
?? Last week we visited Albergue in Lalín for another time and it was suprisingly amazing experience.
Despite that the Silver Way is not very crowded and we did not expect a lot of pilgrims to come, that day we were surprised how many people came. We even did not have time to register first pilgrims and another came. We had a small chat with two women from Germany, than very sympathic man from Madrid who could speak fluent English and he even said that he visited Bratislava and he enjoyed the city, then another 3 pilgrims from Spain and even one from Africa.
Another good experience was the chat with the receptionist from albergue, who did not speak English but it was an opportunity for me to practise Spanish and we managed to understand each other. We laughed at some jokes and spoke about various topics.
?? La semana pasada visitamos el Albergue en Lalín por otra vez y fue una experiencia sorprendentemente increíble.
A pesar de que el Camino de la Plata no está muy concurrido y no esperábamos que vinieran muchos peregrinos, ese día nos sorprendió la cantidad de gente que vino. Incluso no tuvimos tiempo de registrar primeros peregrinos y vino otro. Tuvimos una pequeña charla con dos mujeres de Alemania, un hombre de Madrid muy simpático que hablaba inglés con fluidez e incluso dijo que visitó Bratislava y disfrutó de la ciudad, luego otros 3 peregrinos de España e incluso uno de África.
Otra buena experiencia fue la charla con la recepcionista del albergue, que no hablaba inglés pero fue una oportunidad para practicar español y logramos entendernos. Nos reímos de algunos chistes y hablamos de varios temas.
You are not allowed to edit this post.