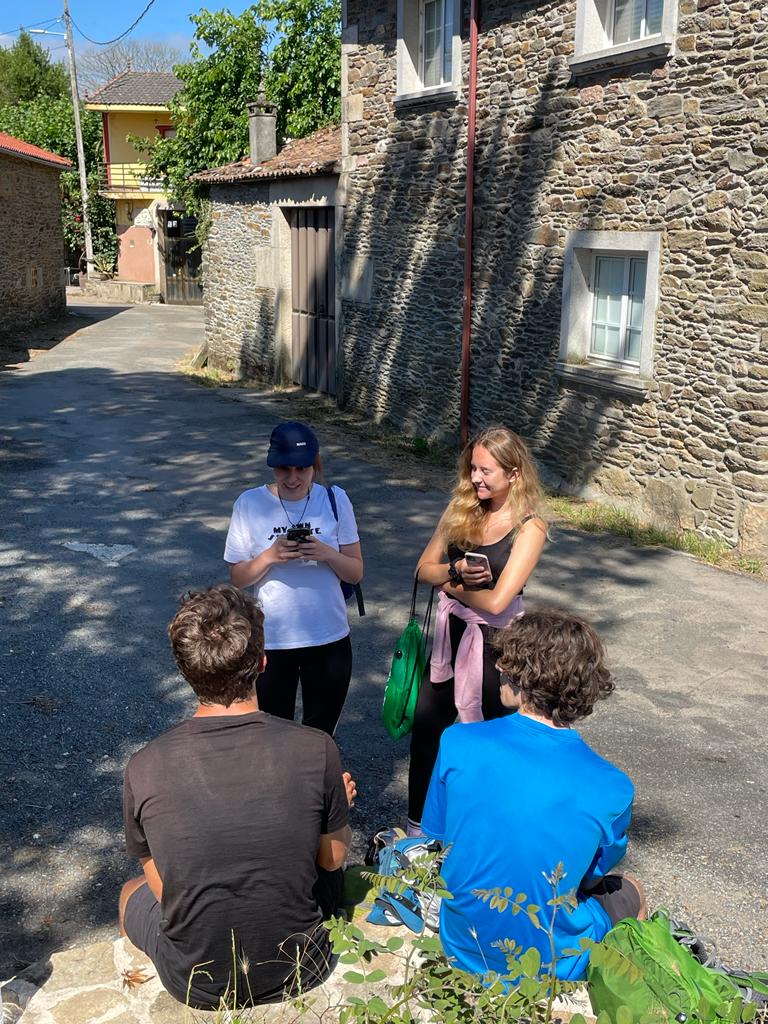 A quick interview at the Via de la Plata trail
---
?? One sunny afternoon, as usual we (me & my team from Lalin) were working at the Silver way. At this trail we don´t have that many points to refill our water bottles so whenever we reach the place where we can do it, we stop for a for a short break. Few minutes later we saw a few piligrims joining us! We don´t meet that many piligrims at Via de la Plata so every time I see one – it makes me smile. I say hello to them and ask them if they speak english. Luckilly they say yes and I ask them if they could spare few minutes of their time for an interview. They seemed to be happy to have a chat and agreed to share their experience with me and Janka. And now we want to share their experience with you 🙂 So… that´s a small insight into  Marek's & Viktor's Camino experience.
Where are you from?
"Chech Republic, Prague."
Where did you start the Camino?
"Ourense, Galicia, Spain".
Why are you doing the Camino?
"We enjoy hiking. It is a lot of fun!"
What do you like about the Camino?
"Meeting other piligrims on the way."
Is there something that you don't like about the
Camino?
"The weather is too hot and we are worried about the
danger of wildfires."
Can you share an experience or adventure that occurred along the Camino?
"We saw Galicia wildfires while we were travelling by train."
How was your experience with other pilgrims?
"Few days ago we met a mexican family. We walked together and had nice conversations."
How did you know about the Camino?
"It is the most famous hiking route!"
What do you think about the hostels for pilgrims?
"They are better than we expected :)"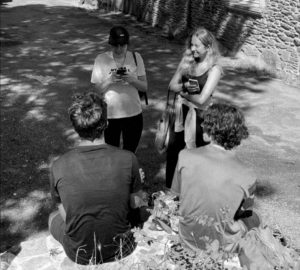 Una tarde soleada, como siempre (mi equipo de Lalín y yo) estábamos trabajando en el Camino de la Plata. En este sendero no tenemos tantos puntos para recargar nuestras botellas de agua, por lo que cada vez que llegamos al lugar donde podemos hacerlo, nos detenemos para un breve descanso. ¡Pocos minutos después vimos a algunos peregrinos uniéndose a nosotros! No nos encontramos muchos peregrinos en la Vía de la Plata, así que cada vez que veo uno, me hace sonreír. Los saludo y les pregunto si hablan inglés. Por suerte me dicen que sí y les pregunto si pueden dedicar unos minutos de su tiempo a una entrevista. Parecían estar felices de tener una charla y acordaron compartir su experiencia conmigo y con Janka. Y ahora queremos compartir su experiencia contigo ? Así que… esto es un pequeño vistazo a la experiencia del Camino de Marek y Viktor.
¿De dónde eres?
"República Checa, Praga."
¿Dónde empezaste el Camino?
"Ourense, Galicia, España".
¿Por qué haces el Camino?
"Disfrutamos del senderismo. ¡Es muy divertido!"
¿Qué te gusta del Camino?
"Encuentro con otros peregrinos en el camino".
¿Hay algo que no te gusta del Camino?
"Hace demasiado calor y estamos preocupados por el peligro de incendios forestales."
¿Puedes compartir alguna experiencia o aventura que te haya ocurrido en el Camino?
"Vimos incendios forestales en Galicia mientras viajábamos en tren".
¿Cómo fue tu experiencia con otros peregrinos?
"Hace unos días conocimos a una familia mexicana. Caminamos juntos y tuvimos agradables conversaciones".
¿Cómo supiste del Camino?
"¡Es la ruta de senderismo más famosa!"
¿Qué opinas de los albergues para peregrinos?
"Son mejores de lo que esperábamos :)"
You are not allowed to edit this post.