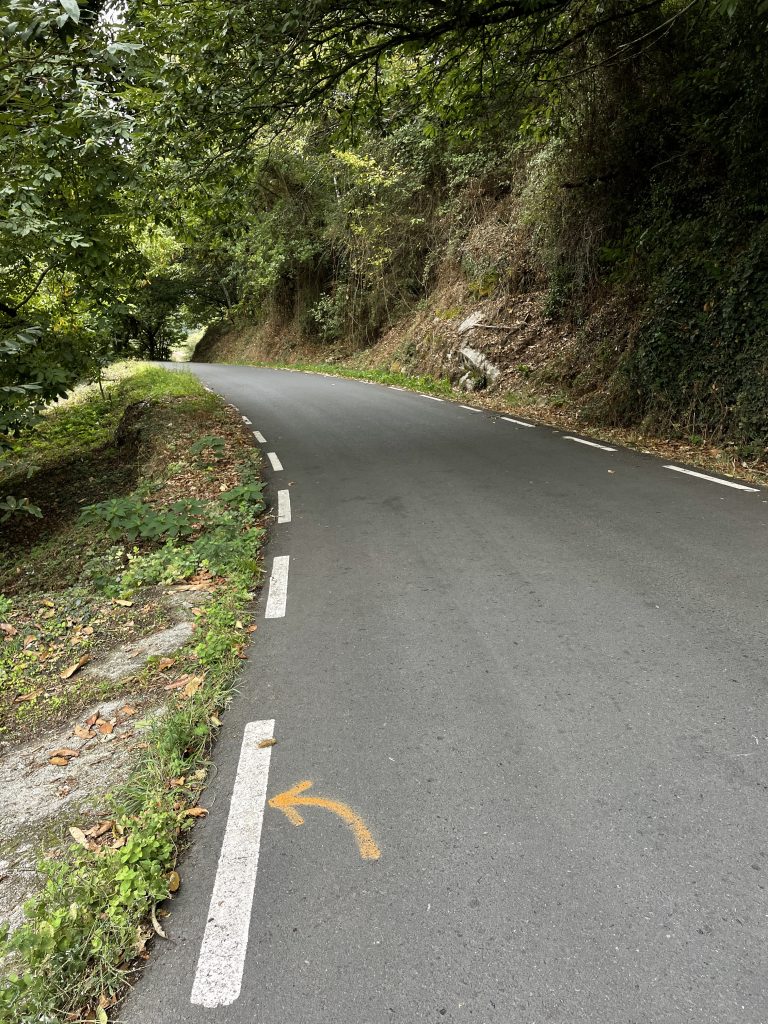 Accessible Camino
---
?? The question of Camino's accessibility has been a constant throughout this project, it is one of the main themes the project tries to work on, and there are steps we as volunteers need to take within the context of accessible Camino. Two main tasks are experiencing the Camino blindfolded, in a wheelchair or with crutches and evaluating the Camino from the point of view of a disabled or elderly person. 
One day we set out for a walk where we observed our surroundings and evaluated them within the accessibility context. However, similarly to us experiencing the Camino in a wheelchair or blindfolded, our uneducated observations and claims born out of lack of experience carry no weight. As we don't have the experience navigating the world with a wheelchair, we cannot properly evaluate if a road is accessible or not. Everything would be inaccessible for us.  
The topic of accessibility however, became a bit clearer to us after a conversation with a pilgrim Antonio, who graciously offered his time and talked not only about his own experience but of his friend's experience, a friend who has paraplegia, i.e. paralysis of the lower limbs. This friend of Antonio's successfully completed a Camino and claims that it is not an impossible feat. Granted, it isn't easy but it is doable. Some parts of the Camino are more easily accessible, like asphalt roads, some parts are mostly inaccessible, mainly those in natural environments like forests, fields, hills. These parts need to be oftentimes avoided and a detour by road needs to be taken, this however, doesn't make the Camino any less real. Finishing a Camino depends most on the right support, availability of detailed information, thorough preparation, and determination. 
Camino unites people of different backgrounds, convictions, abilities and capabilities, it unites them in their common goal, to experience the Camino. And every experience is different, even more so for a person in a wheelchair, similar to Antonio's paraplegic friend. Despite Camimo's difficulty, the conversation with Antonio left us hopeful and strengthened our belief that we lack experience to evaluate accessibility of the Camino. 
Calling the Camino accessible would be wrong, but so would calling it inaccessible. To realize the extent of the work that needs to be done in order to make Camino more accessible, responsible professionals should be in conversation with people with different disabilities who have done the Camino and learn what is lacking and where they can improve.
?? La cuestión de la accesibilidad del Camino ha sido una constante a lo largo de este proyecto, es uno de los principales temas en los que trata de trabajar el proyecto, y hay pasos que nosotros como voluntarios debemos dar dentro del contexto de Camino accesible. Dos tareas que realizamos fueron vivir el Camino con los ojos vendados, en silla de ruedas o con muletas y evaluar el Camino desde el punto de vista de una persona con discapacidad o mayor.
Un día salimos a caminar observamos nuestro entorno y lo evaluamos en el contexto de la accesibilidad. Sin embargo, al igual que nosotros experimentando el Camino en silla de ruedas o con los ojos vendados, nuestras observaciones incultas y afirmaciones nacidas de la falta de experiencia no tienen ningún peso. Como no tenemos la experiencia de navegar por el mundo con una silla de ruedas, no podemos evaluar adecuadamente si una carretera es accesible o no. Todo sería inaccesible para nosotros.
Sin embargo, el tema de la accesibilidad nos quedó un poco más claro después de una conversación con un peregrino Antonio, quien gentilmente ofreció su tiempo y habló no solo de su propia experiencia sino de la experiencia de su amigo, un amigo que tiene paraplejia, es decir, parálisis de la parte inferior extremidades Este amigo de Antonio completó con éxito uno de los Caminos y asegura que no es una hazaña imposible. De acuerdo, no es fácil, pero es factible. Algunas partes del Camino son más fácilmente accesibles, como las carreteras asfaltadas, algunas partes son en su mayoría inaccesibles, principalmente aquellas en entornos naturales como bosques, campos, colinas. Muchas veces es necesario evitar estas partes y tomar un desvío por carretera, pero esto no hace que el Camino sea menos real. Terminar un Camino depende más del apoyo adecuado, la disponibilidad de información detallada, la preparación minuciosa y la determinación.
El Camino une a personas de diferentes orígenes, convicciones, habilidades y capacidades, los une en su objetivo común, vivir el Camino. Y cada experiencia es diferente, más aún para una persona en silla de ruedas, como el amigo parapléjico de Antonio. A pesar de la dificultad de El Camino, la conversación con Antonio nos dejó esperanzados y reforzó nuestra creencia de que nos falta experiencia para evaluar la accesibilidad del Camino.
Llamar accesible al Camino sería un error, pero también lo sería llamarlo inaccesible. Para darse cuenta de la magnitud del trabajo que hay que hacer para hacer el Camino más accesible, los profesionales responsables deben estar en conversación con personas con diferentes discapacidades que han hecho el Camino y aprender qué les falta y dónde pueden mejorar.
Text: Veronika
Photos: Alise
You are not allowed to edit this post.