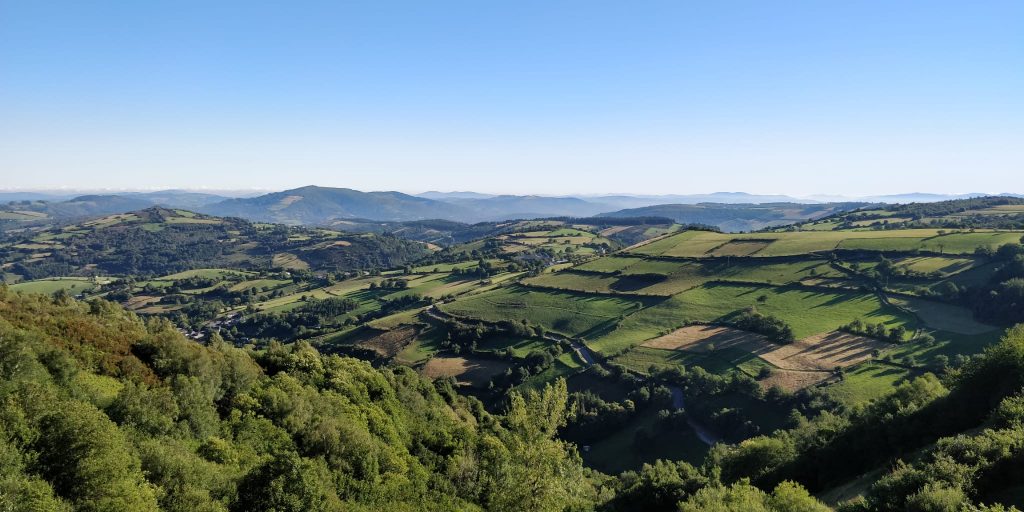 Benvidos a Triacastela
---
??Our experience in the Camino started in an adventurous mode. After many hours by bus and then driving in sinuous roads we arrived to a small town surrounded by nature called Triacastela. We were welcomed by our supervisor Maria and our hostess Olga who helped us with everything we needed in the house.
In the past few days we have been exploring this little town that, we came to realize, gets overflown with pilgrims in the summer months. We got to walk a little part of the etapa O Biduedo to Triacastela and met many pilgrims both walking and riding bikes.
The whole group was taken aback by the wonderful natural beauty of this rural town and its setting. Then logistical questions came. How are we going to manage shopping when there are only  2 small shops with crazy high prices? What bus options do we have if we want to travel during the weekends? And what does this all means to people that actually live in rural settings?
We definitely will discover a lot about both the Camino and rural life in the next few months!
?? Nuestra experiencia en el Camino empezó de forma aventurera. Después de muchas horas en autobús y luego conduciendo por caminos sinuosos llegamos a un pequeño pueblo rodeado de naturaleza llamado Triacastela. Fuimos recibidos por nuestra supervisora ​​María y nuestra anfitriona Olga quienes nos ayudaron con todo lo que necesitábamos en la casa.
En los últimos días hemos estado explorando este pequeño pueblo que, nos dimos cuenta, se llena de peregrinos en los meses de verano. Llegamos a caminar una pequeña parte de la etapa desde O Biduedo a Triacastela y nos encontramos con muchos peregrinos tanto caminando como en bicicleta.
Todo el grupo quedó desconcertado por la maravillosa belleza natural de este pueblo rural y su entorno. Luego vinieron las cuestiones logísticas. ¿Cómo vamos a manejar las compras cuando solo hay 2 tiendas pequeñas con precios altísimos? ¿Qué opciones de autobús tenemos si queremos viajar los fines de semana? ¿Y qué significa todo esto para las personas que realmente viven en entornos rurales?
¡Seguro que descubriremos mucho sobre el Camino y la vida rural en los próximos meses!
You are not allowed to edit this post.