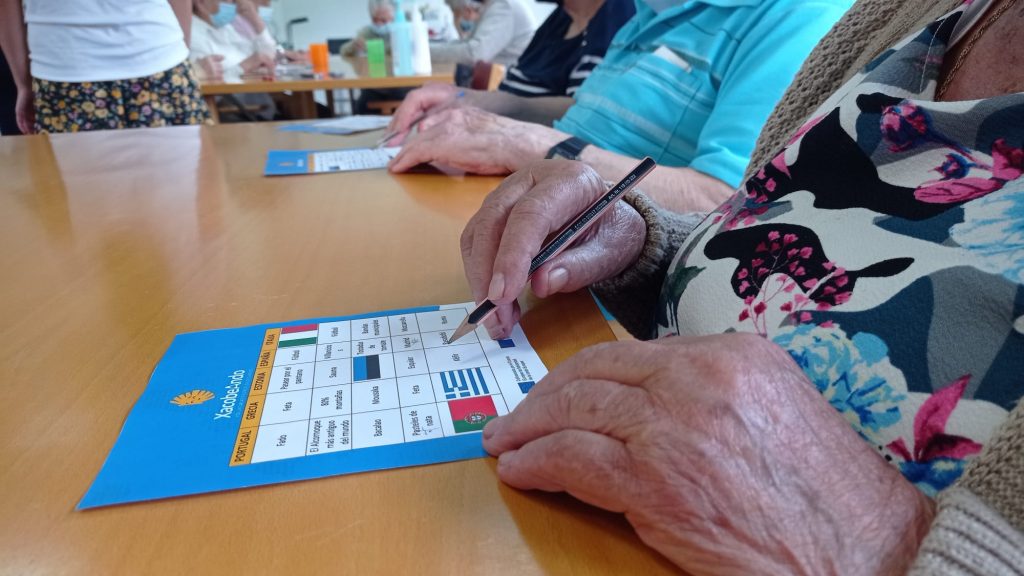 Bingo – Triacastela ft. Palas de Rei
---
?? Hello! Hello! Hello! Hello! How's it going? We are back.
Last 23rd of August we had an activity in collaboration with the volunteers of Palas de Rei in the day centre for elderly people in Palas del Rei.
The week before we were preparing the bingo cards, which were signed from the capitals, food, sports, festivals, songs and typical dances of our countries (Spain, Estonia, Greece, Italy, Latvia and Portugal). Of course, the winners had a prize, a wonderful Triacastela parcheesi, first prize; and a fantastic book that tells the history of Triacastela, as second prize.
This incredible activity did not end there, after the bingo and a lunch break, we started singing typical Galician songs. It was incredible.
Hopefully the new volunteers can enjoy these activities as much as we did.
Palas, it was a pleasure to meet you.
We will keep you posted.
?? ¡Hola! ¡Hola! ¡Hola! ¿Cómo va todo? Estamos de vuelta.
El pasado 23 de agosto tuvimos una actividad en colaboración con los voluntarios de Palas de Rei en el centro de día de personas mayores de la misma localidad.
La semana anterior estuvimos preparando los cartones del bingo, los cuales estaban firmados a partir de las capitales, las comidas, deportes, fiestas, canciones y danzas típicas de nuestros países (España, Estonia, Grecia, Italia, Letonia y Portugal). Por supuesto, los ganadores tuvieron premio, un maravilloso parchís de Triacastela, primer premio; y un fantástico libro que narra la historia de Triacastela, como segundo premio.
Esta increíble actividad no finalizó ahí, tras el bingo y una pausa para almorzar, empezamos a cantar canciones típicas gallegas. Fue increíble.
Ojalá los nuevos voluntarios puedan disfrutar de estas actividades tanto como lo hemos hecho nosotras.
Palas, fue un placer conoceros.
Seguiremos informando.
You are not allowed to edit this post.