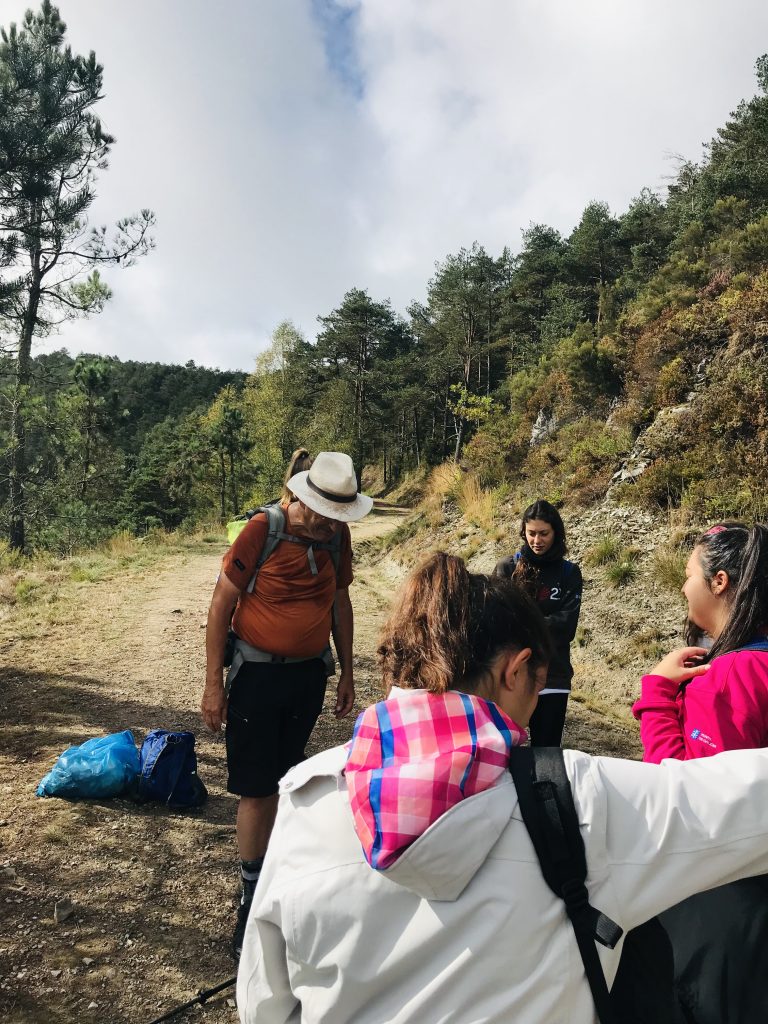 Camino days: meeting pilgrims
---
?? Since the start of the project, we have had at least 2 days each week on the camino. Some days we've taken time to clean, other times we have focused on accessibility by evaluating the condition of the routes. These have been great as they've given us many opportunities to meet and greet pilgrims. Most of them thank us for our work. We exchange experiences and emotions and wish them "Buen camino!".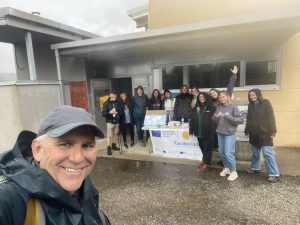 Some days we set up a table in front of the public albergue in O Cádavo to welcome pilgrims, offer them hot tea or coffee and biscuits. In addition, we have taken time to listen to their stories and ask for advice or suggestions. On one occasion we met an American pastor Dwayne (who took a selfie with us). He was such a joyful and positive person, and if I remember correctly, walking his 6th or 7th camino. With him was a Belgian gentleman, who he met on the camino. He shared with us his heartbreaking story: his wife died a few years ago, and doing the camino was a very special journey for him. All the stories we've heard have proven how each pilgrim has a different motivator and reason for doing this challenging trip.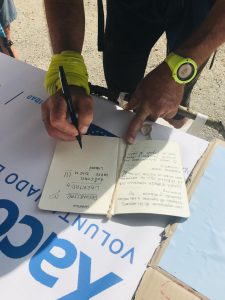 Pilgrims often ask about us in return. We introduce them to the European Solidarity Corps and the Xacobeando project.
?? Desde el inicio del proyecto, hemos tenido al menos 2 días a la semana en la ruta. Algunos días nos hemos tomado el tiempo de limpiar, otras veces nos hemos centrado en la accesibilidad, evaluando el estado de las rutas. Estos han sido días fantásticos ya que nos han brindado muchas oportunidades para conocer y saludar a los peregrinos. La mayoría de ellos nos agradecen nuestro trabajo. Intercambiamos experiencias y emociones y les deseamos "¡Buen camino!".
Algunos días colocamos una mesa frente al albergue público de O Cádavo para recibir a los peregrinos, ofrecerles té o café caliente y galletas. Además, nos hemos tomado el tiempo de escuchar sus historias y pedirles consejos o sugerencias. En una ocasión conocimos a un pastor estadounidense, Dwayne (quien se sacó una selfie con nosotros). Era una persona tan alegre y positiva, y si no recuerdo mal, caminaba su sexto o séptimo camino. Con él estaba un hombre belga, a quien conoció en el camino. Compartió con nosotros su desgarradora historia: su esposa murió hace unos años, y hacer el camino fue un viaje muy especial para él. Todas las historias que hemos escuchado han demostrado cómo cada peregrino tiene un motivo y una razón diferente para hacer este desafiante viaje.
Los peregrinos a menudo preguntan por nosotros a cambio. Les presentamos el Cuerpo Europeo de Solidaridad y el proyecto Xacobeando.
You are not allowed to edit this post.