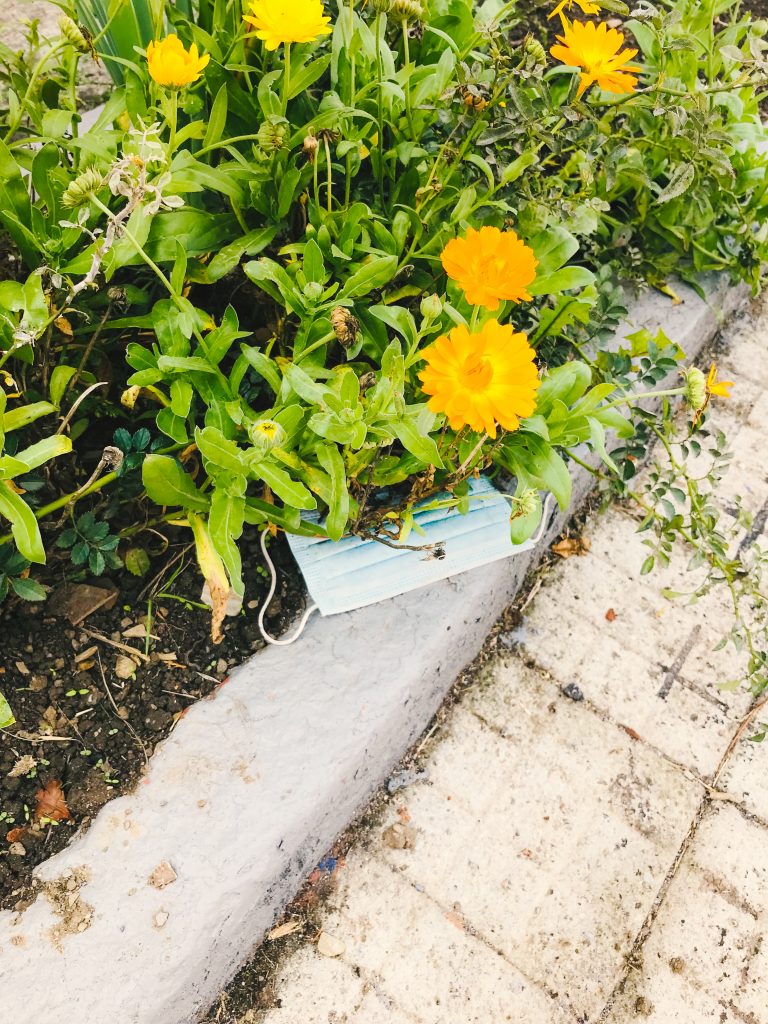 Cigarette butts and Isabel
---
?? In Estonia I help organise the local version of World Cleanup Day. Thus, I was excited to learn how one of our objectives was to think of tasks and events related to sustainability. During our first week at O Cádavo, Baleira, we wrote down an idea of a clean-up. Firstly, we were given the task to evaluate the condition on the camino. Though we did manage to find trash (mostly tissues and small plastic), it was in great shape. But, the biggest concern was the town centre. It was not necessary to search for rubbish, it was in plain sight. Plastic wrappers and bottles, cardboard, glass and tiny pieces of it, and cigarette butts: thousands of them, scattered around pavements.
It was clear that finding areas for a clean-up was not going be difficult. We designed a poster (both in English and Spanish) hoping some locals or even pilgrims would be willing to join in. We knew there was a slim chance, yet…  Isabel came. Isabel is a lovely lady in her best years, from Madrid, but now living in O Cádavo. For love, I guess. She has a bad back, so she came prepared with a stick to help pick up trash. According to her, there is no town cleaning service. Another local said something similar, when she saw us picking up trash. One even felt ashamed that foreigners came to Spain to do this. We did not mind of course and were happy to help.
The 6 of us picked up rubbish for almost 2 hours. We managed to clean-up maybe 5% of all the trash. So… it makes sense to do it again, many times. Hopefully, next time we can get more people involved.
I'm also thinking about ways on how to educate people on cigarettes butts and their negative impact on nature. Many people consider them biodegradable, but in reality, the filter inside does not dissolve. It's actually made of tiny pieces of plastic. We discussed some ideas in the team and hope to make a creative, but educational bin for them.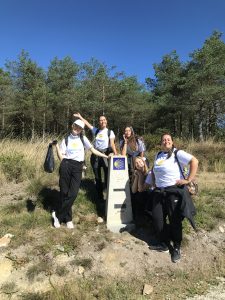 ?? En Estonia, ayudo a organizar la versión local del Día Mundial de la Limpieza. Por lo tanto, me emocionó saber cómo uno de nuestros objetivos era pensar en tareas y eventos relacionados con la sostenibilidad. Durante nuestra primera semana en O Cádavo, Baleira, escribimos una idea de limpieza. En primer lugar, se nos dio la tarea de evaluar el estado del camino. Aunque logramos encontrar basura (principalmente pañuelos de papel y plástico pequeño), estaba en buen estado. Pero, la mayor preocupación era el centro de la ciudad. No era necesario buscar basura, estaba a la vista. Envoltorios y botellas de plástico, cartón, vidrio y sus pedacitos, y colillas: miles de ellos, esparcidos por las aceras.
Estaba claro que encontrar áreas para una limpieza no iba a ser difícil. Diseñamos un cartel (tanto en inglés como en español) con la esperanza de que algunos lugareños o incluso peregrinos estuvieran dispuestos a unirse. Sabíamos que había una pequeña posibilidad, sin embargo… Vino Isabel. Isabel es una señora encantadora en sus mejores años, de Madrid, pero que ahora vive en O Cádavo. Por amor, supongo. Tiene problemas de espalda, así que vino preparada con un palo para ayudar a recoger la basura. Según ella, no hay servicio de limpieza del pueblo. Otro local dijo algo similar, cuando nos vio recogiendo basura. Uno hasta se avergonzaba de que vinieran extranjeros a España a hacer esto. Por supuesto, no nos importó y estuvimos felices de ayudar.
Los 6 recogimos basura durante casi 2 horas. Logramos limpiar quizás el 5% de toda la basura. Entonces… tiene sentido hacerlo de nuevo, muchas veces. Con suerte, la próxima vez podremos involucrar a más personas.
También estoy pensando en formas de educar a las personas sobre las colillas de cigarrillos y su impacto negativo en la naturaleza. Mucha gente los considera biodegradables, pero en realidad, el filtro interior no se disuelve. En realidad está hecho de pequeñas piezas de plástico. Discutimos algunas ideas en el equipo y esperamos hacer un contenedor creativo pero educativo para ellos.
You are not allowed to edit this post.