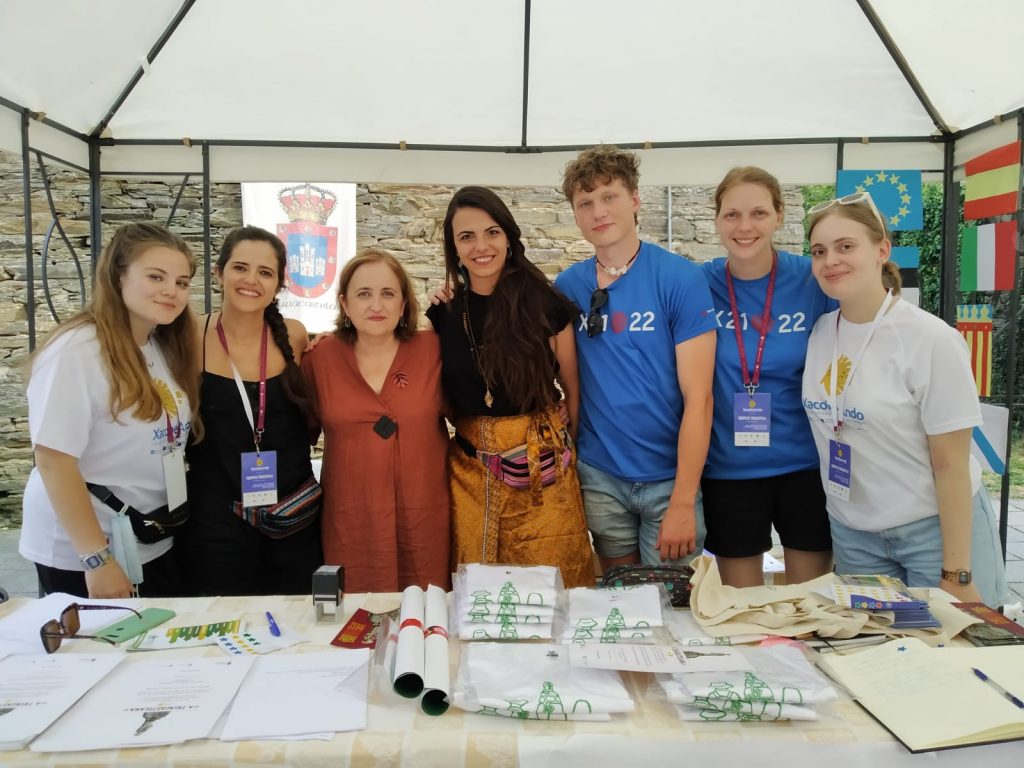 Festa do Peregrino
---
?? On Saturday we had the opportunity to participate in the third pilgrim party of Triacastela.
In this occasion the town hosts a full day event, including exhibits, cultural events and a craft fair. It gets flooded with pilgrims as well as locals from both Triacastela and nearby towns.
Our main collaboration to the event took place at the town hall stand, where we welcomed every visitor that came to Triacastela and invited them to take part in the pilgrim party. We had the opportunity to hand out gifts provided by the town hall, including tote bags and t-shirts, that many pilgrims and locals used during the day. We also gave out "Triacastelanas" to pilgrims, certifying that they were in Triacastela in the day of the party.
Additionally, we had, during the previous week, prepared some activities to take place during the party, regarding intercultural sharing. We had the opportunity to share poetry from our five different countries with the local community. We also prepared a map where pilgrims could mark their own country, creating an opportunity for them to share a little of their camino experience with us.
?? El sábado tuvimos la oportunidad de participar en la tercera fiesta jacobea de Triacastela.
En esta ocasión el pueblo acoge un evento de día completo, que incluye exposiciones, eventos culturales y una feria artesanal. Se inunda de peregrinos y lugareños tanto de Triacastela como de los pueblos cercanos.
Nuestra principal colaboración al evento tuvo lugar en la tribuna del ayuntamiento, donde recibimos a todos los visitantes que acudían a Triacastela y les invitamos a participar en la fiesta jacobea. Tuvimos la oportunidad de repartir obsequios proporcionados por el ayuntamiento, como bolsas y camisetas, que muchos peregrinos y vecinos utilizaron durante el día. También repartimos triacastelanas a los romeros, certificando que estaban en Triacastela el día de la fiesta.
Además, durante la semana anterior habíamos preparado algunas actividades para llevar a cabo durante la fiesta, en torno al intercambio intercultural. Tuvimos la oportunidad de compartir poesía de nuestros cinco países diferentes con la comunidad local. También preparamos un mapa donde los peregrinos podían marcar su propio país, creando una oportunidad para que compartiesen un poco de su experiencia del camino con nosotros.
You are not allowed to edit this post.