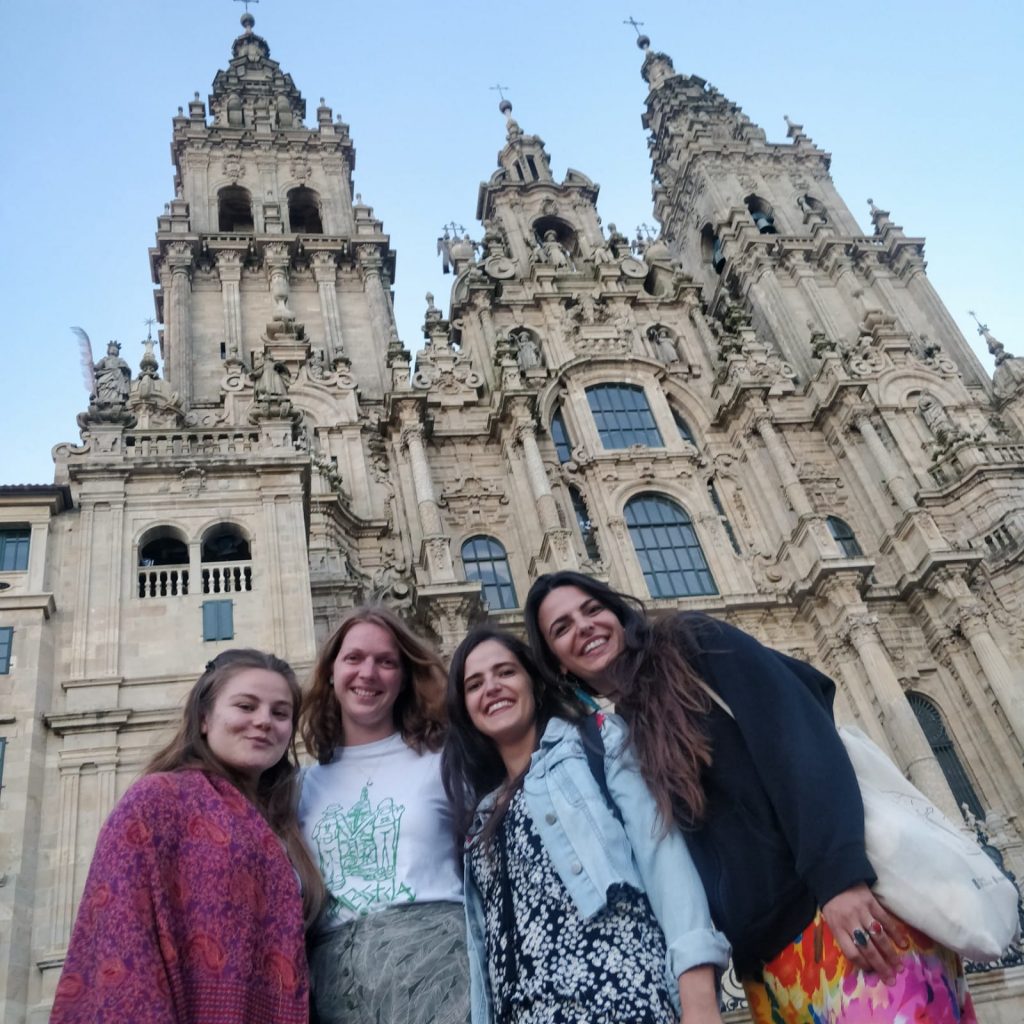 From Santiago back to Santiago.
---
??  Most weeks and days go past very quickly, because everyday there is something different and new. Although this week is almost past, I haven't written about my last week. So, here we go.
Last week started with coming back from Porto and on the way back me and the girls from my team stayed in Santiago for a day. After being in a big city I was looking forward to being back in quite and peaceful Triacastela, to be surrounded by nature.
Last week we also walked in the Camino. Both days we walked in a different part of the Camino. Because from Triacastela there are two ways to go to Sarria.One with more hills and shorter (I wrote about it previously) and the other longer and with less hills. So now when people ask about different paths, I can answer from experience not only from theory and maps. Both paths have advantages and disadvantages. There is beauty in both of them. For me the hilly rode is full of nature and quite, but in the other way, there is a charming place: Samos, with a beautiful Monastary.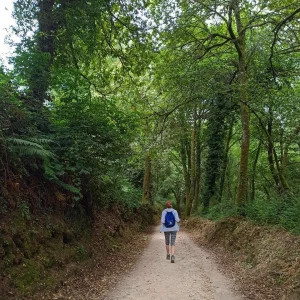 On the weekend I also got to see a little bit of Sarria and Lugo. Both places are waiting to be explored more, hopefully I will get a chance.
Last week I started in Santiago and on Saturday I had a chance to return there, to meet all the people who are doing the same project as me, but in different places. It was great to meet everyone, I would like to spend more time with them. One of the higlights of the day (maybe the last month) was playing basketball with people from project and pilgrims.
Altogether last week was full of people new places and new memories.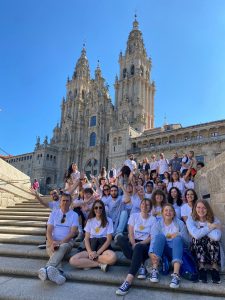 ?? La mayoría de las semanas y los días pasan muy rápido, porque todos los días hay algo diferente y nuevo. Aunque esta semana casi ha pasado, no he escrito sobre mi última semana. Así que, aquí vamos.
La semana pasada empezó volviendo de Oporto y en el camino de vuelta las chicas de mi equipo y yo nos quedamos un día en Santiago. Después de estar en una gran ciudad, tenía muchas ganas de estar de vuelta en Triacastela, tranquila y pacífica, para estar rodeada de naturaleza.
La semana pasada también hicimos el Camino. Ambos días caminamos en una parte diferente del Camino. Porque desde Triacastela hay dos caminos para ir a Sarria. Uno con más cuestas y menos (ya os escribí antes) y otro más largo y con menos cuestas. Así que ahora, cuando la gente pregunta sobre diferentes caminos, puedo responder desde la experiencia, no solo desde la teoría y los mapas. Ambos caminos tienen ventajas y desventajas. Hay belleza en ambos. Para mí, el paseo por las colinas está lleno de naturaleza y tranquilidad, pero por otro lado, hay un lugar encantador: Samos, con un Monasterio hermoso.
El fin de semana también pude ver un poco de Sarria y Lugo. Ambos lugares están a la espera de ser explorados más, con suerte tendré una oportunidad.
La semana pasada la comencé en Santiago y el sábado tuve oportunidad de volver allá, y de conocer a toda la gente que está haciendo el mismo proyecto que yo, pero en diferentes lugares. Fue genial conocerlos a todos, me gustaría pasar más tiempo con ellos. Uno de los aspectos más destacados del día (quizás el último mes) fue jugar al baloncesto con la gente del proyecto y los peregrinos.
En resumen, la semana pasada estuvo llena de gente, lugares nuevos y nuevos recuerdos.
You are not allowed to edit this post.