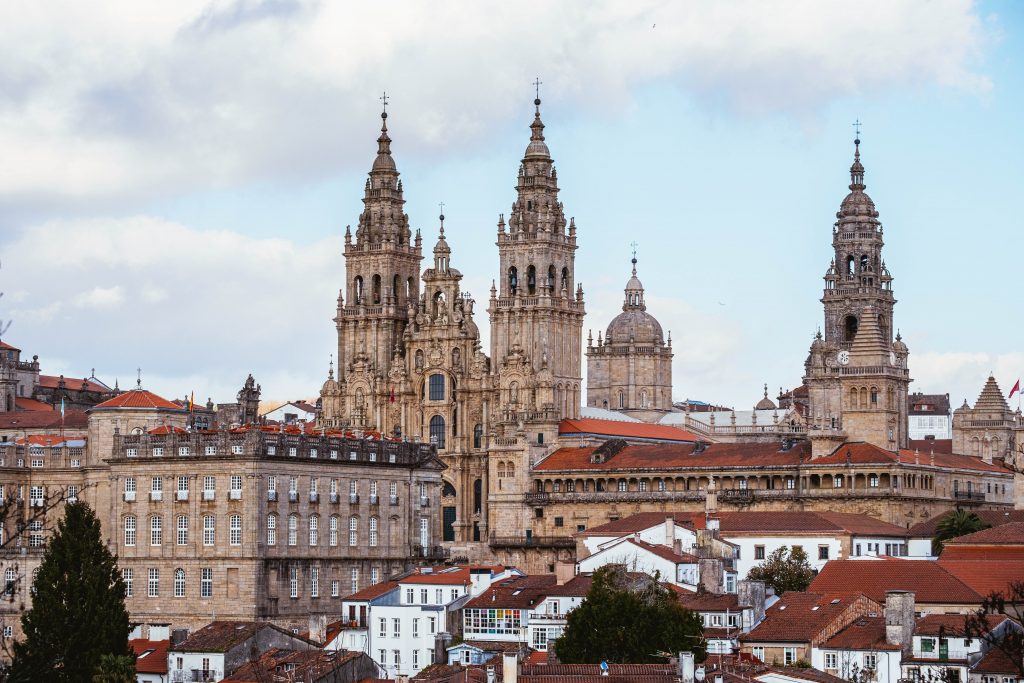 Historia no. II: El gallego en Tuy (y la dictadura)/ Story no.II: The Galician language in Tuy (and the dictatorship)
---
?? El gallego en Tuy (y la dictadura) 
Para mí que vine a Galicia a aprender gallego- entre otras razones-, fue una decepción que en Tuy no tuve la oportunidad de sumergirme en este idioma. 
Me pregunté por qué. 
Y se lo pregunté a los demás también. 
Como me explicaron en una serie de ocasiones los gallegos, durante los años de la dictadura, el gallego estuvo ausente de todos los usos oficiales y públicos, desapareciendo de casi cualquier manifestación cultural, lo que convirtió el castellano cada vez más en la lengua del ámbito urbano. Una vez planteada la pregunta de si durante la dictadura estaba prohibido hablar gallego, la respuesta recibida fue la siguiente, citada textualmente:
Sí, porque (si hablabas en gallego se suponía que) pertenecías a un grupo gallego, al partido nacional gallego. Si hablabas en gallego dabas a entender que eras gallego y en aquella época no estaba permitido pertenecer a ningún grupo. O eras del que había o te mataban, era así. En aquella, por ejemplo, no dejaban que los niños estudiaran lo suficiente, no les interesaba que supieran más que aquello. Los médicos, algún médico lo mató por ser médico.
A nivel local, además del régimen lingüístico impuesto por la dictadura, otro factor que determinó el uso predominante del castellano fue el hecho de que Tuy siempre ha estado estrechamente vinculado con la iglesia y, según la interpretación de algunos lugareños, la iglesia y las élites religiosas no aprobaban realmente el idioma local, que, por lo visto, carecía de intelectualidad. Al contrario de lo que ocurría en Cataluña, donde el catalán era considerado la lengua de las élites, aquí el gallego era considerado el idioma de los pobres, de los analfabetos. 
En una de las conversaciones que tuvimos con los lugareños, en un intento de comparar Tuy con A Guarda, un pueblo marinero también del sur de Galicia, en el que el gallego se habla mucho más, una mujer protestó con la siguiente afirmación: 
Tui es una zona monumental, era una ciudad de categoría, gente de traje nuevo. Aquí en Tui yo vengo vestida de una manera y si voy a otro sitio voy de otra. Aquí hay nivel y La Guardia es puerto de mar.
Y añadió: 
Visto que el castellano tiene un nivel superior al gallego, no compares el nivel de Tui con el de La Guardia.
En otras palabras:
El castellano, bueno yo en mi casa, lo consideras como más fino y el gallego como más rudo, más ordinario. Sin embargo, cuando quieres echar una bronca, la echas en gallego.
Que el sentido del humor se expresara en gallego, que vaya más allá de las apariencias, fue algo que realmente valió la pena desenterrar. Todavía estoy sonriendo.
?? The Galician language in Tuy (and the dictatorship)
For me, who came to Galicia to learn Galician -among other reasons-, it was a disappointment that in Tuy I did not have the opportunity to immerse myself in this language. And I wondered why. And therefore I asked the others, too.
As the Galicians explained to me on a number of occasions, during the years of the dictatorship, Galician was absent from all official and public uses, disappearing from almost any cultural manifestation, which made the "castellano" increasingly the language of the urban sphere.
When the question as to whether it was forbidden to speak Galician during the dictatorship was raised, the response received was the following, verbatim:
Yes, because (if you spoke Galician it was assumed that) you belonged to the nationalist Galician movement, to the Galician national party. If you spoke in Galician you implied that you were "galleguista" and at that time it was not allowed to belong to any other group:  Either it was you who was there or they killed you, it was like that. In that one, for example, they didn't let the children study enough, they weren't interested in knowing more about it. The doctors, some doctor killed him for being a doctor.
At the local level, in addition to the linguistic regime imposed by the dictatorship, another factor that determined the predominant use of Spanish was the fact that Tuy has always been closely linked to the church and, according to the interpretation of some locals, the church and the religious elites did not really approve of the local language, which lacked intelligentsia. Contrary to what happened in Catalonia, where Catalan was considered the language of the elites, here Galician was considered the language of the poor, of the illiterate. In one of the conversations we had with the locals, in an attempt to compare Tuy with A Guarda, a fishermen's village 30 km away, also in the south of Galicia where Galician is much more spoken, a woman protested with the following statement: Tui is a monumental area, it was the city of category people with new clothes. Here in Tui I come dressed in one way and if I go to another place I go from another, here there is a plain and La Guardia is a sea port.
as Castilian has a higher level than Galician, do not compare the level of Tui with that of La Guardia.
In other words:
Castilian, well, in my house, you consider it finer and Galician coarser, more vulgar. In fact, when you want to throw a fight, you throw it in Galician.
You are not allowed to edit this post.