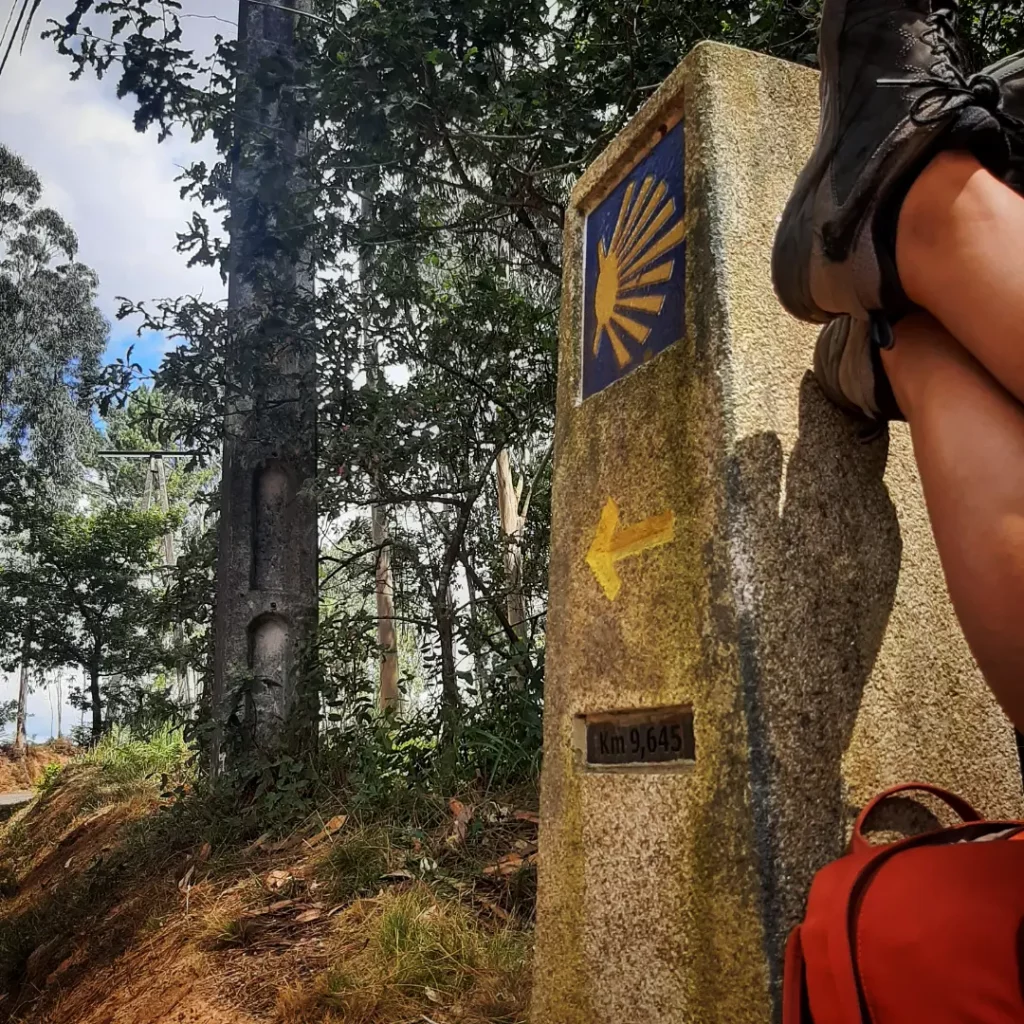 I am a piligrim
---
?? Hola! The last 5 days I was in Camino like a piligrim. So I was walking about 155km less or more, slept in the Albergues, I ate snacks in roadside cafes and other things.
My personal experience was amazing. Somethings was happening with me. I don't no what, and how should I describe it.. maybe I don't have the words yet, maybe I will never know the words to describe it, but happened.
About the Camino.
First of all I was started at friday about 5 pm from village where I am living – Xinzo de Limia. That I didn't have a lot of time to walk until the night comes. So I walked to Allariz I trying to find Albergues. I found it, but there was not Albergues for piligrims, there was albergues for ukrainian people and there are no place for me. But there was a nice woman, who me help to find a place where I can spend the night – in a hotel. It was not so expensive, but also not cheap.
Next day I was walking to Ourense. I just enjoyed the hike. I saw a lot of trashes in the streets. It's a pity that I didn't have any bag. I had collected some.
Next day I was walking to Lalin, so there was a challenge because there was about 50km route. When I was left the Ourense I was meeting one piligrim and it was a nice surprise, I was really happy for that. He didn't speak english, but it was really nice to meet him. When I come to Cea on the way I searched the local catholic church and at that time here a mass have begun. So I was staying there untill the mass ended. Then I moved on. Around Lalin, it is so amazing the Camino route, I am inlove the nature and that's what I could see.
Other day I was walking from Lalin to Bandeira. This route of the Camino beauty left the biggest impresion. I was really enjoyed of the Camino, because I had a lot of time to look around.
The last day of hiking and I reached my destinasion – Santiago de Compostela. I came there confident and calm.
And of course I strongly recommend this route of the Camino to everybody.
?? ¡Hola! Los últimos 5 días estuve en Camino como un peregrino. Así que anduve unos 155km menos o más, dormí en Albergues, comí snacks en cafés de carretera y otras cosas.
Mi experiencia personal fue increíble. Algo estaba pasando conmigo. No sé qué y cómo debo describirlo… tal vez aún no tenga las palabras, tal vez nunca sepa las palabras para describirlo, pero sucedió.
Sobre el Camino.
En primer lugar, comencé el viernes alrededor de las 5 de la tarde desde el pueblo donde vivo: Xinzo de Limia. Que no tuve mucho tiempo para caminar hasta que llega la noche. Así que caminé hasta Allariz tratando de encontrar Albergues. Lo encontré, pero no había albergues para peregrinos, había albergues para ucranianos y no había lugar para mí. Pero había una buena mujer que me ayudó a encontrar un lugar donde pasar la noche, en un hotel. No era tan caro, pero tampoco barato.
Al día siguiente iba andando a Ourense. Simplemente disfruté la caminata. Vi mucha basura en las calles. Es una lástima que no tenía ninguna bolsa. Yo había coleccionado algunos.
Al día siguiente estaba caminando hacia Lalín, así que hubo un desafío porque había unos 50 km de ruta. Cuando salí de Ourense me encontré con un peregrino y fue una grata sorpresa, me alegré mucho. No hablaba inglés, pero fue muy agradable conocerlo. Cuando llegué a Cea en el camino busqué en la iglesia católica local y en ese momento aquí había comenzado una misa. Así que me quedé allí hasta que terminó la misa. Luego seguí adelante. Alrededor de Lalín, es tan increíble la ruta del Camino, estoy enamorada de la naturaleza y eso es lo que pude ver.
Otro día estaba caminando de Lalín a Bandeira. Esta ruta del Camino dejó la belleza de la mayor impresión. Disfruté mucho del Camino, porque tuve mucho tiempo para mirar alrededor.
El último día de caminata y llegué a mi destino – Santiago de Compostela. Llegué confiado y tranquilo.
Y por supuesto recomiendo encarecidamente esta ruta del Camino a todo el mundo.
You are not allowed to edit this post.