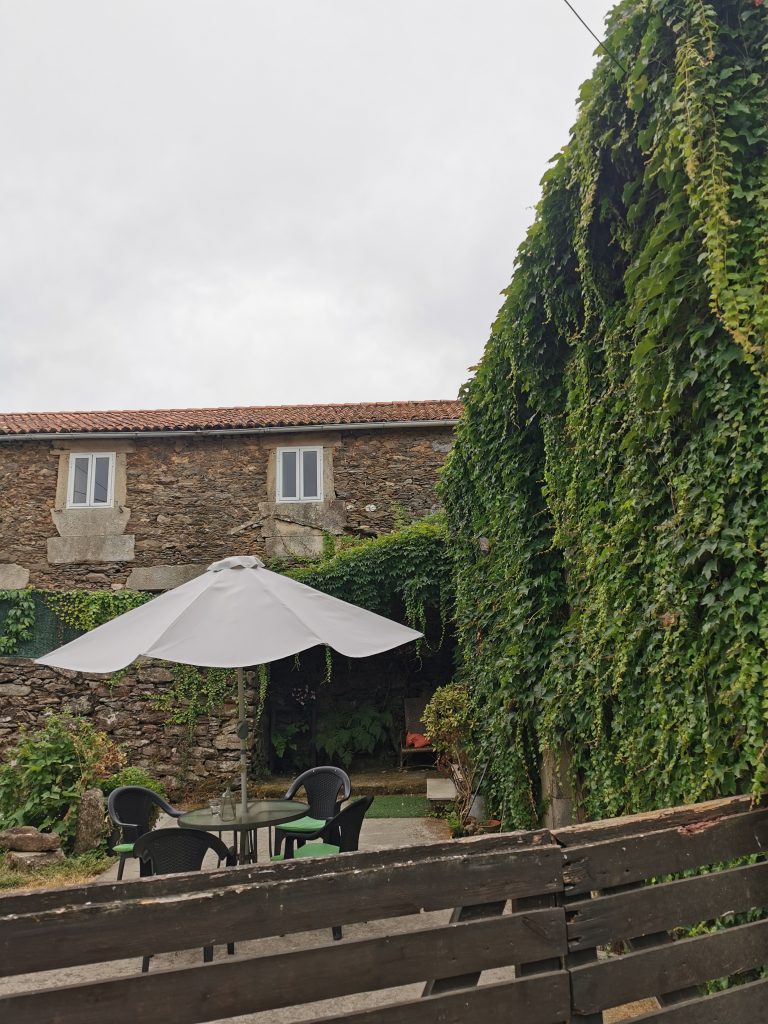 Interesting week in Lalín
---
?? Tuesday 2nd 
After the Mid-term evaluation, we started a new month differently. This time we will do the great majority of the things alone because our coordinator is now receiving a new group, so now we have to put into practice all our knowledge. On Tuesday we did some sustainable Camino, but this time instead of going to the Albergue location, we went the other way, basically backward to Sevilla. Along the way we found amazing paths while cleaning, even animals like horses, cows, and peacocks. Finally, we decided to go to A Eirexe so we could check if the sustainable posters were still there, and then we went back to the house with a lot of heat.
Thursday 4th
This Thursday was very complete because of the number of activities that we had to do. We began our day by walking the Camino, but this time we decided to go through the Winter Camino, we walked until the Albergue of Bendoiro and from there we continued by the Silver Camino until almost Silleda, a small town near Lalín. From that point, we decided to go back to the Albergue to record the Word of the Week, which you are going to be able to watch next week. After this, we walked back to the house and in the end, we did more than 20 km. At the finale of the day, we had an exposition in the Museo Municipal "Ramón María Aller", where we could observe the different stars in Lalín and learn more about astrology in Galicia.
?? Martes 2
Después de la evaluación intermedia, comenzamos un nuevo mes diferente. Esta vez haremos la gran mayoría de las cosas solos porque nuestro coordinador ahora está recibiendo un nuevo grupo, así que ahora tenemos que poner en práctica todos nuestros conocimientos. El martes hicimos el "Camino sostenible", pero esta vez en lugar de ir al Albergue, fuimos hacia el otro lado, básicamente de regreso a Sevilla. En el camino encontramos senderos increíbles mientras limpiamos, incluso vimos animales como caballos, vacas y pavos reales. Finalmente, decidimos ir a A Eirexe para comprobar si aún quedaban los carteles sostenibles que habíamos puesto, y luego volvimos a casa con mucho calor.
Jueves 4
Este jueves estuvo muy completo por la cantidad de actividades que tuvimos que hacer. Empezamos el día haciendo el Camino, pero esta vez decidimos hacer el Camino de Invierno, caminamos hasta el Albergue de Bendoiro y desde allí continuamos por el Camino de la Plata hasta casi Silleda, un pequeño pueblo cerca de Lalín. A partir de ahí decidimos volver al Albergue para grabar la Palabra de la Semana, que podréis ver la semana que viene. Después de esto, caminamos de regreso a la casa y al final hicimos más de 20 km. Para finalizar la jornada, tuvimos una exposición en el Museo Municipal "Ramón María Aller", donde pudimos observar las diferentes estrellas de Lalín y aprender más sobre la astrología en Galicia.
You are not allowed to edit this post.