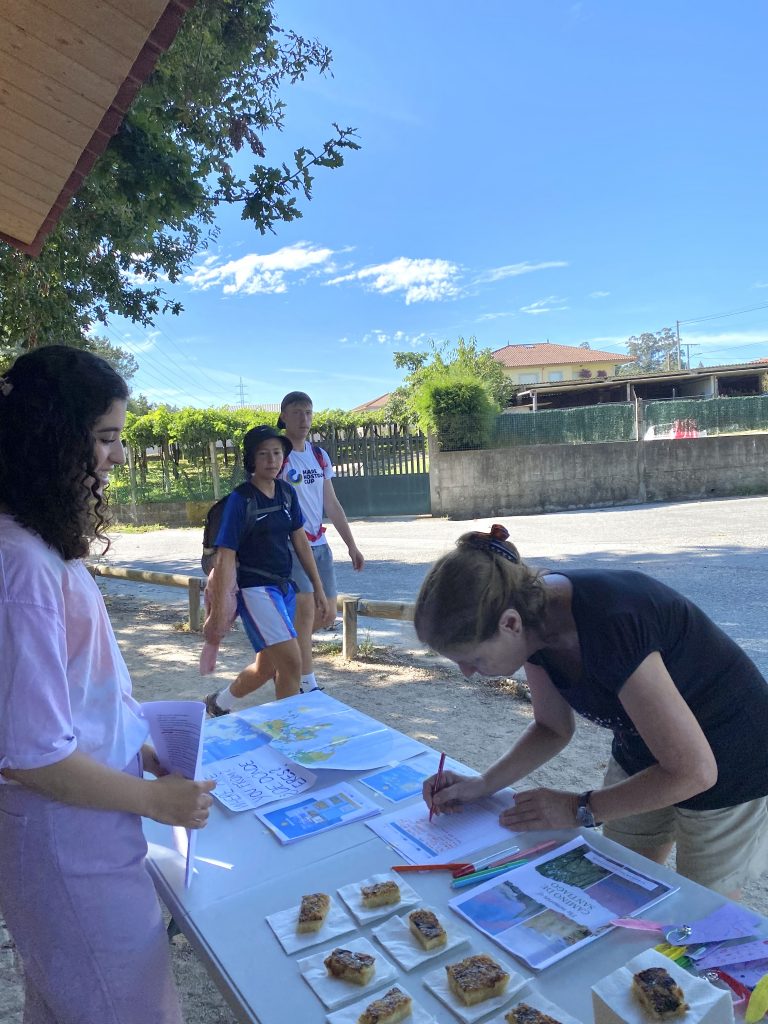 LAST DAY WITH PILGRIMS IN PORTUGUESE CAMINO
---
Hoy hemos trabajado por última vez en el camino Portugués repartiendo tarta, haciendo preguntas a los peregrinos, promocionando el cuerpo solidario europeo y el camino de Barbanza. La tarta de Estonia "Curk cake" realizada por nuestra compañera Meeli ha sido todo un éxito, la gente decía que estaba buenísima y gracias también a eso hemos tenido muchas más entrevistas con la gente. Hemos estado trabajando desde las nueve y media ya que a esas horas es cuando la gente prefiere empezar a andar, no hace tanta calor, a las doce y media no pasaban casi ningún peregrino. Estamos muy orgullosos del día de hoy porque nos lo hemos pasado muy bien y hemos conocido a muchos peregrinos interesantes, sobre todo a muchos andaluces jejejeje.
Today we have worked for the last time on the Portuguese Way, handing out cake, asking questions to pilgrims, promoting the European solidarity corps and the Barbanza Way. The Estonian cake "Curk cake" made by our colleague Meeli has been a success, people said it was great and thanks to that we have had many more interviews with people. We have been working since half past nine because at that time is when people prefer to start walking, it is not so hot, at half past twelve there were almost no pilgrims. We are very proud of today because we have had a great time and we have met many interesting pilgrims, especially many Andalusians hehehehehehe.
You are not allowed to edit this post.