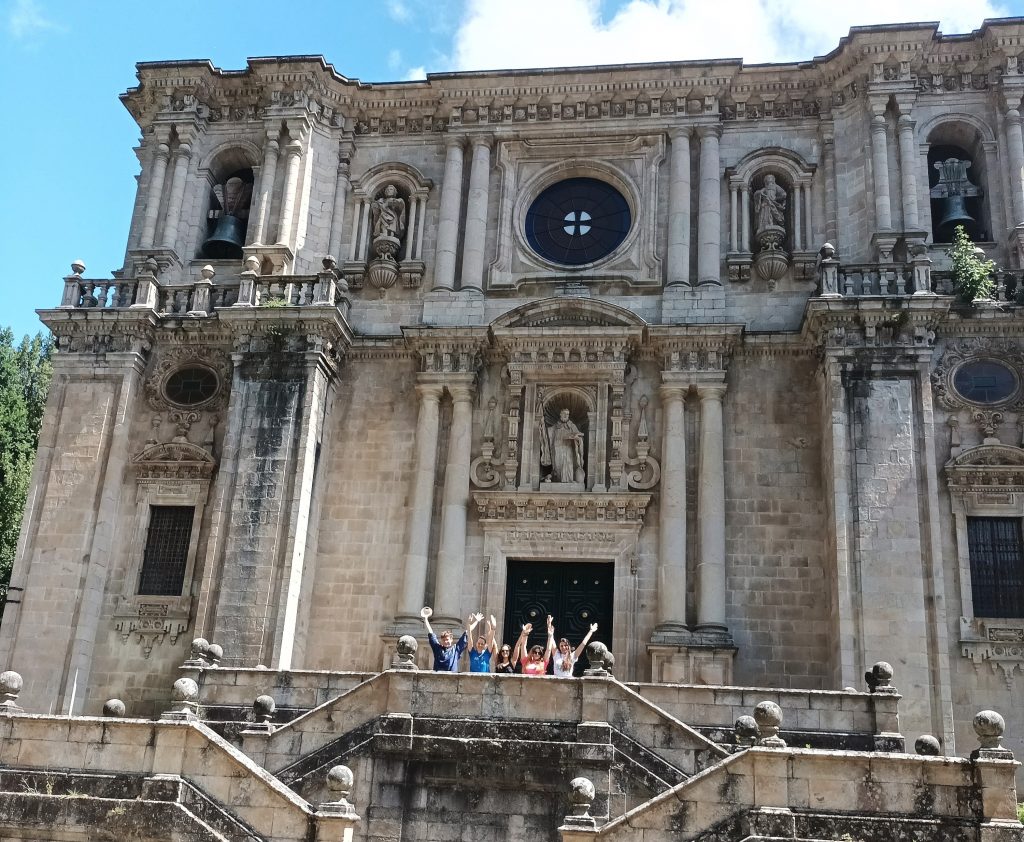 Let's go to Samos!
---
?? One of the most beautiful places we visited is undoubtedly Samos.
 Samos is a little village 10 km far from Triacastela. The nature on the way is amazing and the scenario that opens in front of you when you get to the center of Samos is incredible as well! 
Samos, indeed, is famous for the historical Benedectine abbey, a real jewel of the VI sec, one of the most important Galicia's religious spots and the oldest inhabited monastery in Spain.
Samos is nestled between hills that make up the Sierra de Oribio, surrounded by lush vegetation.
The Sarria River, also called Oribio, crosses the entire town, hosting the main sites of interest on its banks.
The first impression once I got there was of being catapulted into another time. The peaceful atmosphere you breathe all around the Monastery is as unreal as beautiful.
Officially called the Royal Monastery of Saint Julian; the legend tells us that it was founded by Martín de Braga, an apostle known in Galicia as San Martiño de Dumio.
After the Christian reconquest, the monastery had its greatest splendor. It has been a refuge for Alfonso II El Casto and since then it has been a mandatory stop on the Camino de Santiago.
As its importance increased, its size also increased, for this reason, its design mixes Gothic, Renaissance, and Baroque elements.
I recommend everyone to visit it if you are on the French Camino! It's Amazing!
?? Uno de los lugares más bonitos que visitamos es sin duda Samos.
Samos es un pequeño pueblo a 10 km de Triacastela. ¡La naturaleza en el camino es increíble y el escenario que se abre frente a ti cuando llegas al centro de Samos también es increíble!
Samos, en efecto, es famosa por la histórica abadía benedictina, una auténtica joya del siglo VI, uno de los lugares religiosos más importantes de Galicia y el monasterio habitado más antiguo de España.
Samos se encuentra enclavado entre los cerros que conforman la Sierra de Oribio, rodeado de una frondosa vegetación.
El río Sarria, también llamado Oribio, atraviesa todo el municipio, albergando en sus riberas los principales lugares de interés.
La primera impresión una vez que llegué allí fue la de ser catapultado a otro tiempo. El ambiente de paz que se respira en todo el Monasterio es tan irreal como hermoso.
Oficialmente llamado Real Monasterio de San Julián; cuenta la leyenda que fue fundado por Martín de Braga, apóstol conocido en Galicia como San Martiño de Dumio.
Tras la reconquista cristiana, el monasterio tuvo su mayor esplendor. Ha sido refugio de Alfonso II El Casto y desde entonces es parada obligatoria en el Camino de Santiago.
A medida que aumentó su importancia, también aumentó su tamaño, por lo que su diseño mezcla elementos góticos, renacentistas y barrocos.
¡Recomiendo a todos que lo visiten si están en el Camino Francés! ¡Es asombroso!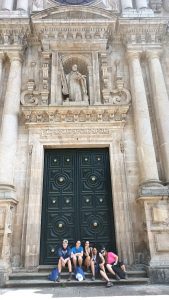 You are not allowed to edit this post.