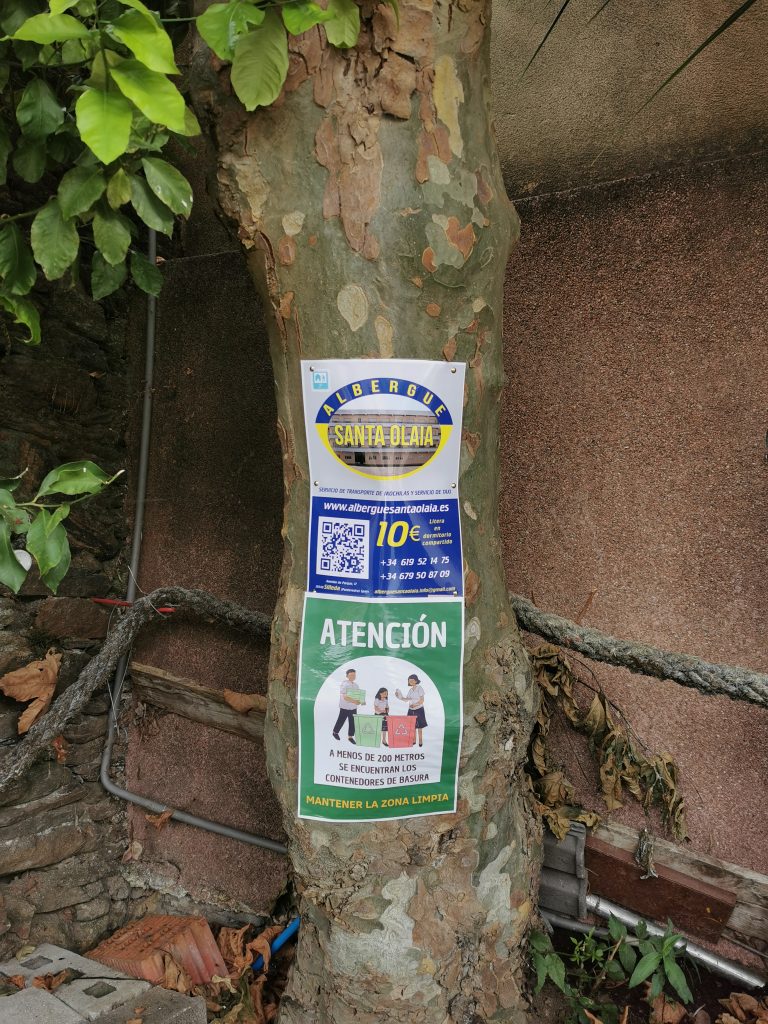 New activities in Lalín
---
?? Wednesday 27th
After a long weekend in Santiago, we started again with our activities but in a different environment. For a few weeks, we had been organizing an activity with the people from Aspadeza Asociación de Padres de Disminuidos Psiquicos de la Comarca de Deza, where we explained our culture from different perspectives through food, dances, music, and other activities. In my case, as I am half Portuguese and Venezuelan, I decided to show one part of my Latin American blood. So I presented Los Diablos Danzantes del Yare, one typical tradition that combines African, Indigenous, and Spanish cultures in one dance to the Santísimo Sacramento from 1749 to our days, they dance every nine Thursdays after the Holy Thursday in all of Venezuela, and at the end, I brought drawings to paint about them.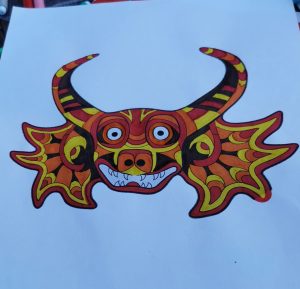 Thursday 28th 
On this day we decided to go to the Camino to do several activities. First, we filmed a specially funny word of the week that is going to be posted very soon. Second, we went to the Silver Camino to stick sustainability posters around A Eirexe, one of the parts of the Camino because there are zones of bars and places for the pilgrims to have a break, and they are always with bottles and food remains. Lastly, after these, we walked a bit further into the Silver Camino and started cleaning from that part until the Albergue of Bendoiro.
?? Miércoles 27
Después de un largo fin de semana en Santiago, volvimos a empezar con nuestras actividades pero en un ambiente diferente. Desde hacía unas semanas veníamos organizando una actividad con la gente de Aspadeza (Asociación de Padres de Disminuidos Psiquicos de la Comarca de Deza), donde explicábamos nuestra cultura desde diferentes perspectivas a través de la comida, los bailes, la música y otras actividades. En mi caso, como soy mitad portuguesa y venezolana, decidí mostrar una parte de mi sangre latinoamericana. Entonces presenté Los Diablos Danzantes del Yare, una tradición típica que combina las culturas africana, indígena y española en una sola danza al Santísimo Sacramento desde 1749 hasta nuestros días, se baila cada nueve jueves después del Jueves Santo en toda Venezuela, y al final, traje dibujos para pintar sobre ellos.
Jueves 28
En este día decidimos ir al Camino para hacer varias actividades. Primero, filmamos una palabra especialmente divertida de la semana que se publicará muy pronto. En segundo lugar, fuimos al Camino de la Plata a pegar carteles de sostenibilidad por A Eirexe, una de las partes del Camino, ya que hay zonas de bares y lugares para que los peregrinos hagan un descanso, y siempre están con botellas y restos de comida. Por último, después de estos, nos adentramos un poco más en el Camino de la Plata y comenzamos a limpiar desde esa parte hasta el Albergue de Bendoiro.
You are not allowed to edit this post.