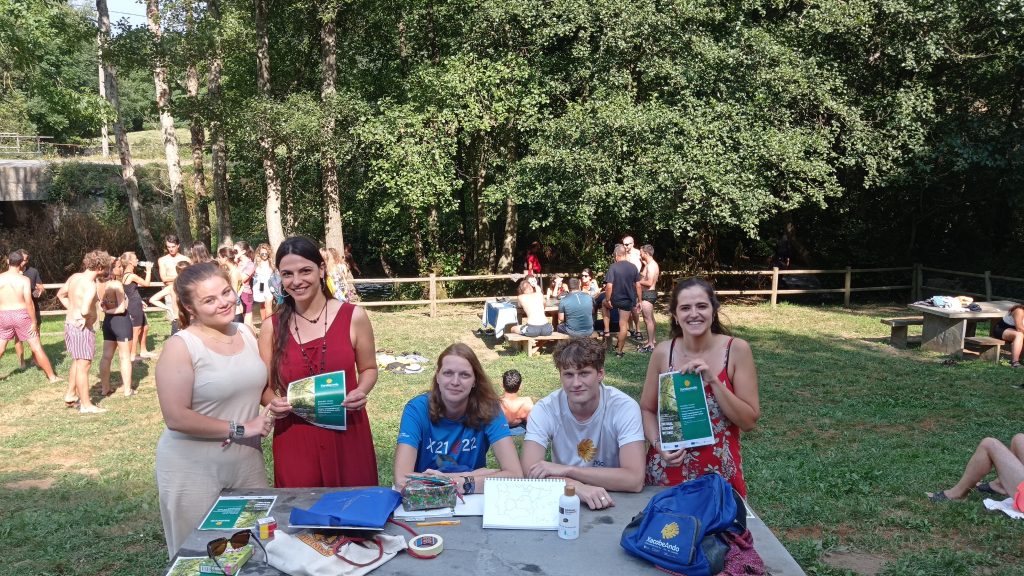 New Activity: Vamos al río!
---
?? On Wednesday, August 3, we get to do a new activity. We called it "Let's talk!" : cultural and linguistic exchange with pilgrims and the local community.
In Triacastela there's a special place where we have spent many many afternoons during the last month: the river; we thought it would have been perfect to talk and share experiences in a green place where the sound of the water is the natural music to listen to.
Uno, Dos, Tres…Vamos al río!
It was a success! Many pilgrims were interested in our project and they naturally came to us for asking and playing with us at parchís, a typical Spanish board game. We had a great time all together, in particular, a group of pilgrims from  Barcelona and Mallorca invited us to drink and eat dinner and we ended up at a huge table composed of almost twenty people! I loved it!
Can't wait to do it again!
?? El miércoles 3 de agosto nos toca hacer una nueva actividad. Lo llamamos "¡Hablemos!" : intercambio cultural y lingüístico con los peregrinos y la comunidad local.
En Triacastela hay un lugar especial donde hemos pasado muchas, muchas tardes durante el último mes: el río; pensamos sería perfecto hablar y compartir experiencias en un lugar verde donde el sonido del agua es la música natural que se escucha.
Uno, Dos, Tres… ¡Vamos al río!
¡Fue un éxito! Muchos peregrinos se interesaron por nuestro proyecto y naturalmente acudieron a nosotros para preguntarnos y jugar con nosotros al parchís, un juego de mesa típico español. Lo pasamos muy bien todos juntos, en concreto, un grupo de peregrinos de Barcelona y Mallorca nos invitó a cenar y beber y terminamos en una mesa enorme compuesta por casi veinte personas! ¡Me encantó!
¡No puedo esperar para hacerlo de nuevo!
You are not allowed to edit this post.