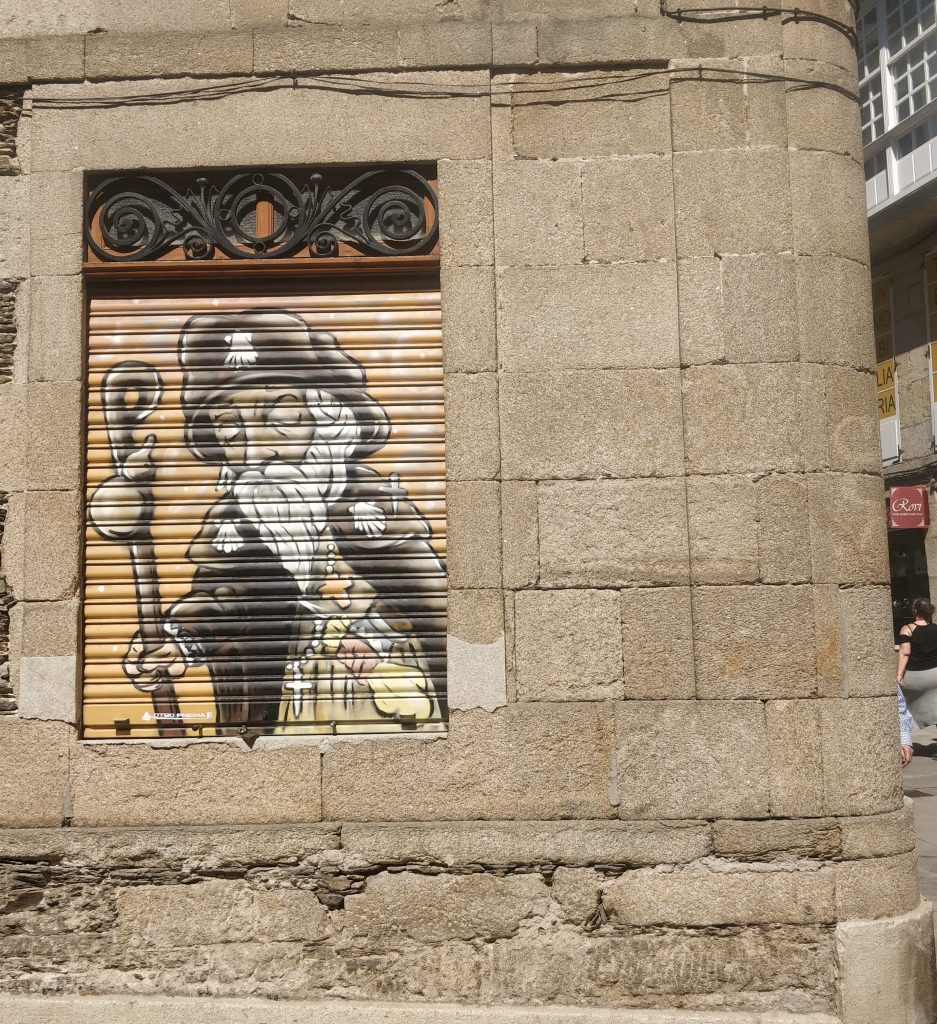 On the way to Santiago
---
?? On Saturday we had a meeting gathering all the project's volunteers and supervisors in Santiago, with the aim to conduct a mid-project evaluation session. We had the opportunity to point out strengths as well as points to improve in both the project and ourselves as teams and as individuals. It was also a great opportunity to meet everyone again and learn about the experiences going on in the different locations.
Due to the lack of public transport connecting Triacastela, we had to rent a car to be in Santiago in time for the meeting,
So, our adventure started Friday!
For that day we had planned to evaluate the camino stretch from Triacastela to Samos. After walking for a couple of hours we arrived In Samos, which is a nice and pleasant town, with the monastery and the surrounding gardens. We managed to have lunch in a little restaurant that seemed to be a personal backyard, wih few options but amazing home-made food.
After our day at the camino we had to pick the car up in Lugo. However, there is no direct way to go from Samos or Triacastela to Lugo. We ended up getting a bus from Samos to Sarria, spend a few hours in Sarria and then a bus from Sarria to Lugo. In Lugo we finally had our car and could drive back to Triacastela and, the following day, to Santiago.
In Santiago we had many feebdack activities with the main purpose of detecting possible improvements to be made, not only in the project itself and among teams but also individual changes. It was a productive day, with the hope that it can bring change and improvement to everyone's experience during the project.
?? El sábado tuvimos una reunión reuniendo a todos los voluntarios y supervisores del proyecto en Santiago, con el objetivo de realizar una sesión de evaluación a mitad del proyecto. Tuvimos la oportunidad de señalar fortalezas y puntos a mejorar tanto en el proyecto como sobre nosotros mismos tanto dentro del equipo como individualmente. También fue una gran oportunidad para reencontrarnos con todos y conocer las experiencias que se estaban llevando a cabo en los diferentes lugares.
Debido a la falta de transporte público que conectara Triacastela, tuvimos que alquilar un coche para estar en Santiago a tiempo para la reunión.
Así que, ¡nuestra aventura comenzó el viernes!
Para ese día teníamos previsto evaluar el tramo del camino desde Triacastela hasta Samos. Después de caminar un par de horas llegamos a Samos, que es un pueblo bonito y agradable, con el monasterio y los jardines que lo rodean. Nos las arreglamos para almorzar en un pequeño restaurante que parecía ser un patio trasero privado, con pocas opciones pero comida casera increíble.
Después de nuestro día en el camino, teníamos que recoger el coche en Lugo. Sin embargo, no hay forma directa de ir desde Samos o Triacastela a Lugo. Terminamos pillando un autobús de Samos a Sarria, pasamos unas horas en Sarria y luego un autobús de Sarria a Lugo. En Lugo finalmente tuvimos nuestro coche y pudimos conducir de regreso a Triacastela y, al día siguiente, a Santiago.
En Santiago tuvimos muchas actividades evaluación con el objetivo principal de detectar posibles mejoras a realizar, no solo en el proyecto en sí y entre equipos, sino también cambios individuales. Fue un día productivo, con la esperanza de que pueda traer cambios y mejoras a la experiencia de todos durante el proyecto.
You are not allowed to edit this post.