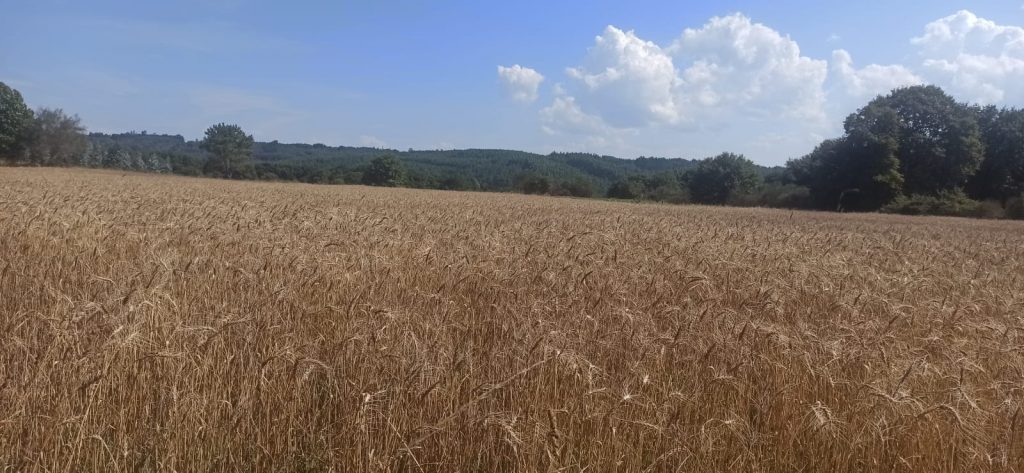 Pilgrims´ reflexions on the Camino/ Reflexiones de peregrinos sobre el Camino
---
Reflexiones de peregrinos sobre el Camino/ Pilgrims´ reflexions on the Camino
(Español abajo)
?? These days when the sun has been breaking through clouds and rain and we prefer to stay home with a cup of ginger tea that helps to fight a cold, I´d like to share with you some gathered piligrims´ stories.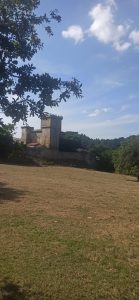 In the hostel in Palas de Rei I met three travellers doing the Way. The first one is Mónica, pilgrim from Barcelona that started walking from Sarria. She opted for the French Way as it seemed to her more accessible for her first hiking adventure. 
Along the Way, Mónica hopes to find the answers to her questions and understand better herself and what she can change or should try to accept. Monica is doing an introspective journey without communicating much with other pilgrims, still valuing a cultural exchange with other travellers. She also appreciated the opportunity to stay in public hostels where she met other volunteers who have always been very helpful.
According to Monica, the Camino is a more sustainable type of tourism and a way of travelling when you think more about your connection with nature and ecological behaviour. The Camino for Monica is life and everyone chooses how and for what to do it.
From her experience, she´s learnt that in our daily life we tend to be worried about minor things and the Camino teaches us how to appreciate every moment.
Rocío, a pilgrim from Coruña also started her way in Sarria. Last year she did the Portuguese way from Tui and now she decided to pick the French way. 
While staying in public hostels Rocío pointed out that she was offered good service for a good budget price. The only thing she wished the hostels would have is some material for pilgrims to stretch out and treat muscle pain once they come to the hostel. She would be also interested to learn more about small villages pilgrims pass on the way and the cultural sights around.
Rocío walks alone but from time to time shares her way with other pilgrims thus meeting new people. She is convinced that doing the Camino reduces our CO2 emission and in this way, we produce less waste.
Initially, Rocío did her Camino just to spend some free time but this year she took advantage of the opportunity to do some self-reflection and think about what she really wants and cherishes, which we don´t normally do in our daily busy life. Today people do the Camino for various reasons such as religious, cultural, leisure or sports but at the end coming to Santiago, everybody feels something very special.
The Camino for Rocío is energy. And this is not only about places that you visit along the way, it´s more about people that make this experience unforgettable.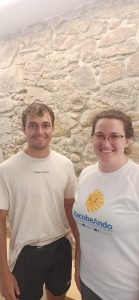 The third pilgrim Luca coming from Germany started his Camino in Astorga. He wanted to challenge himself physically and mentally and change conventional travelling with something more adventurous. It was a chance to get out of his comfort zone, meet new people and get to know Spain. Following his uncle's example, Luca also chose the French Way as it seemed to be the most common way to do it.
Luca managed to get a good balance between walking alone and with other people who have been always very friendly and welcoming. Doing Camino Luca realised that you don't need much to be happy, just a backpack can be enough to meet your needs and you start appreciating small things. Moreover, sometimes you think you don't have energy to keep going but pushing yourself just a bit you can achieve incredible results it's true for Camino and it works in life.
Camino itself is a separate life with its rules and routines you should follow and respect. You get used to talk to different people as if you've known them for ages. Overall, this is a very adventurous experience.
Stay tuned for more stories and wisdom thoughts from our courageous travelers!
____
?? Estos días cuando el sol pelea contra las nubes en Galicia y preferimos quedarnos en casa con una taza de té caliente para curar un resfriado quiero compartir con vosotros las historias de peregrinos que continúan su ruta a pesar del clima.
En el albergue en Palas de Rei encontré a una peregrina de Barcelona, Mónica, que hacía su camino sola desde Sarria. El camino francés le pareció más accesible y lo eligió para su primera aventura.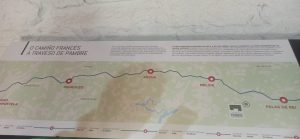 En su camino Mónica espera encontrar respuestas para entenderse mejor a sí misma y cambiar algo o aceptar lo que no se puede cambiar. Mónica hace un viaje introspectivo sin comunicarse mucho con otros peregrinos pero noté las ventajas de cambiar emociones con otros viajeros. Al mismo tiempo, apreció mucho la oportunidad de quedarse en albergues públicos donde encontró a otros voluntarios.
Según Mónica, el Camino es un viaje y turismo más sostenible cuanto más piensas sobre tu conexión con la naturaleza y tú comportamiento ecológico. El camino para Mónica  es la vida y cada uno elige como y para que hacerlo. De su experiencia ha aprendido que en la vida cotidiana nos preocupamos de cosas innecesarias que hace falta hacer y el Camino enseña valorar cada momento.
Rocío, peregrina de Coruña, también empezó su ruta en Sarria. El año pasado ya hizo el Camino portugués desde Tui y ahora decidió hacer el Camino francés. Se esta quedando en albergues públicos Rocío notó que por buen precio ofrecen alojamientos buenos. La única cosa que le gustaría tener en los albergues es algo para estirar y aliviar contracturas y tratar el dolor a la hora de llegar. También le interesaría más saber sobre las cosas que hay en pueblos para hacer visitas culturales.
Rocío camina sola pero de vez y cuando comparte su ruta con otros peregrinos que le da oportunidad de conocer a la gente nueva. Rocío piensa que haciendo el Camino ayudamos a reducir nuestra huella de carbono y producimos menos residuos así viajamos de una forma más sostenible. 
Al principio Rocío hizo el Camino por ocio pero este año también aprovecha el tiempo para conectar con sí misma y pensar lo que necesita y quiere de verdad que no suele hacer en su vida cotidiana 
Hoy en día la gente hace el camino por razones diferentes tal como culturales, por ocio, por deporte y religión pero al final al llegar a Santiago todos sentimos algo especial.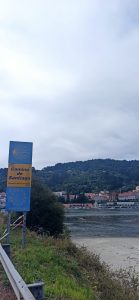 El camino para Rocío es energía. Y es no sólo sobre los lugares que pasamos y visitamos, sino también las personas que hacen está experiencia inolvidable 
Otro peregrino alemán Luca empezó su Camino en Astorga. El camino  es un desafío físico y mental par sí mismo. Luca quería probar algo más aventurero que viajar habitualmente, salir de su zona de confort, encontrar a la gente nueva y conocer España. Siguiendo el ejemplo de su tío, eligió el Camino francés como una ruta más común y popular.
Luca consiguió equilibrio caminando solo y con otros compañeros que han sido siempre muy amables y acogedores. En el Camino Luca se dio cuenta que no necesitamos mucho para estar felices, solo una mochila puede ser suficiente así aprendemos valorar cosas pequeñas. Además, a veces piensas que no tienes más energía para seguir pero con un pequeño esfuerzo puedes lograr resultados increíbles. Funcióna para el  Camino y funciona en la vida porque el Camino es una vida separada con sus normas y rutinas que tienes que respetar y seguir. Te acostumbras a hablar con personas diferentes como si les supieras durante mucho tiempo. En general, es una experiencia muy aventurera.
No te pierdas más historias y reflexiones de nuestros viajeros valientes.
You are not allowed to edit this post.