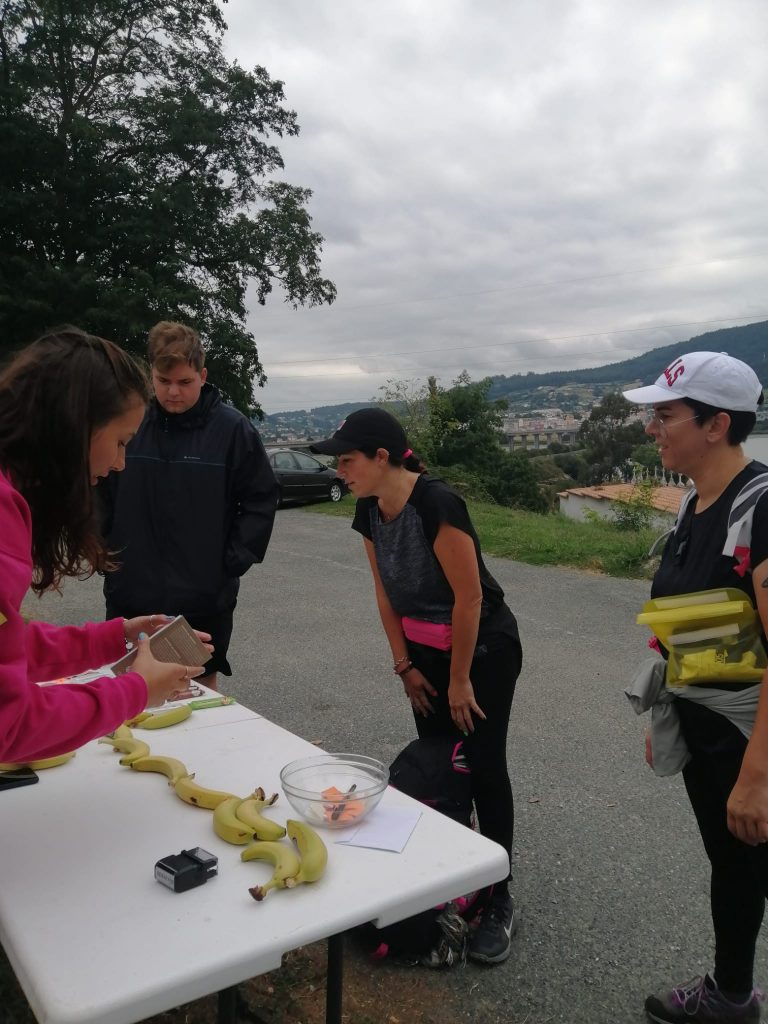 Snack stand for pilgrims
---
ES
El martes pasado realizamos una actividad nueva para algunas de las participantes del grupo de Ferrol. Esta consistió en preparar un estand en el Monasterio del Couto, un punto estratégico de la ruta del Camino Inglés entre Ferrol y Neda, en el que colocamos algunos snacks gratis para los peregrinos, así como conchas recogidas por nosotros o frases motivadoras escritas en papeles pequeños. También llevamos el sello de la oficina por si alguno de ellos quería que le sellaran su credencial.
Estuvimos varias horas por la mañana y durante este tiempo pasaron por este punto alrededor de 60 peregrinos. La mayoría de ellos eran españoles, pero también conocimos a un peregrino inglés, una alemana, dos holandeses y dos italianas. Casi todos nos contaron un poco de su historia, pero la que más me llamó la atención fue la de la peregrina alemana. Había realizado el Camino de Santiago varias veces por rutas diferentes, pero esta vez había llegado hasta Ferrol a pie desde su casa en Alemania. También nos contó que previamente había estado ayudando en unas inundaciones que se habían producido en su país donde se lesionó las espalda, por ello esta ocasión era una prueba personal para ella misma.
En general, fue una mañana muy agradable porque pudimos conocer las experiencias de diferentes personas y también presentarles nuestro proyecto y nuestra organización para darnos a conocer entre los más jóvenes.
EN
Last Tuesday we did a new activity for some of the participants of the Ferrol group. This consisted of preparing a stand in the Monasterio del Couto, a strategic point of the route of the English Way between Ferrol and Neda, where we placed some free snacks for the pilgrims, as well as shells collected by us or motivational phrases written on small papers. We also carried the stamp of the office in case any of them wanted to have their credentials stamped.
We stayed for several hours in the morning and during this time about 60 pilgrims passed through this point. Most of them were Spanish, but we also met an English pilgrim, a German, two Dutch and two Italians. Almost all of them told us a bit of their story, but the one that caught my attention the most was the German pilgrim. She had walked the Camino de Santiago several times by different routes, but this time she had come to Ferrol on foot from her home in Germany. She also told us that she had previously been helping in some floods that had occurred in her country where she injured her back, so this occasion was a personal test for herself.
All in all, it was a very pleasant morning because we were able to get to know the experiences of different people and also to present our project and our organisation in order to make ourselves known to young people.
You are not allowed to edit this post.