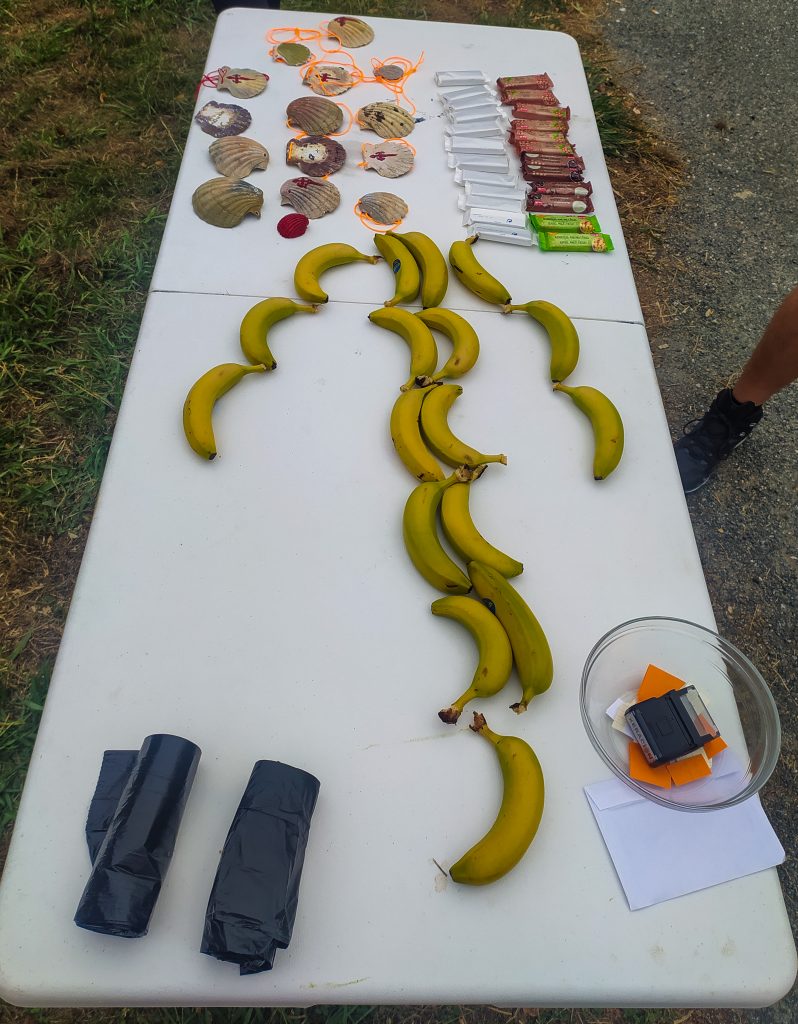 Some inspiring stories
---
??  One of the main reasons why I came here was to stay in contact with pilgrims and know their stories. I don't know what I was looking for exactly but I think I found out today.
Today we set up a stand for the pilgrims in the Monasteiro de Couto (Naron), we provided snacks, fruit, camino shells and some motivational quotes to read along the way. 
As soon as we arrived the first pilgrim came, he was a young man coming from London, rather strange considering that despite it being the English way, the British people who actually make the journey are not many. He stopped to chat with us for half an hour, and he also told us a bit more about his life, and that he would love to live in Galicia one day because he loves the fresh weather here and it reminds him of England.
He was so curious and fascinated about what we were doing there so we talked a bit about the project and ESC and before leaving he asked how old we were and he said ''guys I really wish I was like you in my early twenties'' and he took a picture of us.
I remember one of the tasks of the first days in Santiago was to write down the footprint we wanted to leave at the end of this project,  mine was to be somehow an inspiration for someone, and I think today I have taken a small step towards the deception of this goal.
Then a German woman arrived, she didn't take anything from the stand but we had the opportunity to talk for a while and her story was so inspiring.
This wasn't her first time doing the camino, actually she did all the official roads to go to Santiago, like the French and the Portuguese one, one time she also started the camino from her house in Germany and another time she started it in Seville.
Now she's doing  the English way as a challenge with herself because last year she broke her limb helping people after a flood. 
Last but not least, four high school students from Madrid stopped by to eat something and have a rest so we had the opportunity to promote the project and ESC as a new way of traveling for young people. It was so beautiful to see such young people take this kind of trip.
?? Una de las principales razones por las que vine aquí fue para estar en contacto con los peregrinos y conocer sus historias. No sé qué estaba buscando exactamente, pero creo que lo descubrí hoy.
Hoy montamos un stand para los peregrinos en el Monasteiro de Couto (Naron), les dimos merienda, fruta, conchas y algunas frases motivacionales para leer en el camino.
Nada más llegar llegó el primer peregrino, era un joven que venía de Londres, algo raro teniendo en cuenta que a pesar de ser el camino inglés, los británicos que realmente hacen el viaje no son muchos. Se detuvo a charlar con nosotros durante media hora, y también nos contó un poco más sobre su vida, y que le encantaría vivir algún día en Galicia porque le encanta el clima fresco de aquí y le recuerda a Inglaterra.
Tenía curiosidad y estaba fascinado sobre lo que estábamos haciendo allí, así que hablamos un poco sobre el proyecto y sobre el CES. Antes de irse, preguntó cuántos años teníamos y dijo "chicos, realmente desearía ser como vosotros a los veinte años". y nos sacó una foto.
Recuerdo que una de las tareas de los primeros días en Santiago fue escribir la huella que queríamos dejar al final de este proyecto, la mía era ser de alguna manera una inspiración para alguien, y creo que hoy he dado un pequeño paso hacia este objetivo.
Luego llegó una mujer alemana, no se llevó nada del stand pero tuvimos la oportunidad de conversar un rato y su historia fue muy inspiradora.
No era la primera vez que hacía el camino, de hecho hizo todos los caminos oficiales para ir a Santiago, como el francés y el portugués, una vez también empezó el camino desde su casa en Alemania y otra vez lo empezó en Sevilla.
Ahora está haciendo el inglés como un desafío consigo misma porque el año pasado se rompió una extremidad ayudando a la gente después de una inundación.
Por último, pero no menos importante, cuatro estudiantes de secundaria de Madrid se detuvieron para comer algo y descansar, por lo que tuvimos la oportunidad de promover el proyecto y CES como una nueva forma de viajar para los jóvenes. Fue tan hermoso ver a gente tan joven hacer este tipo de viaje.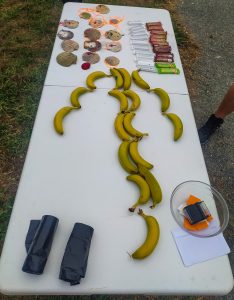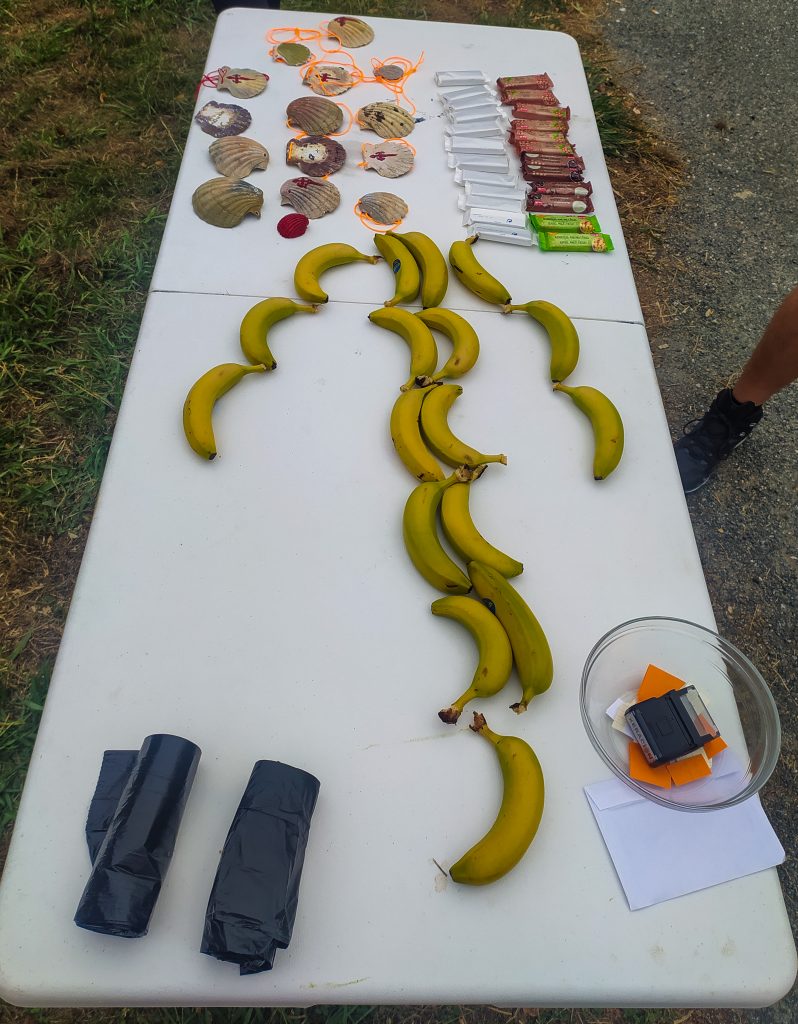 You are not allowed to edit this post.