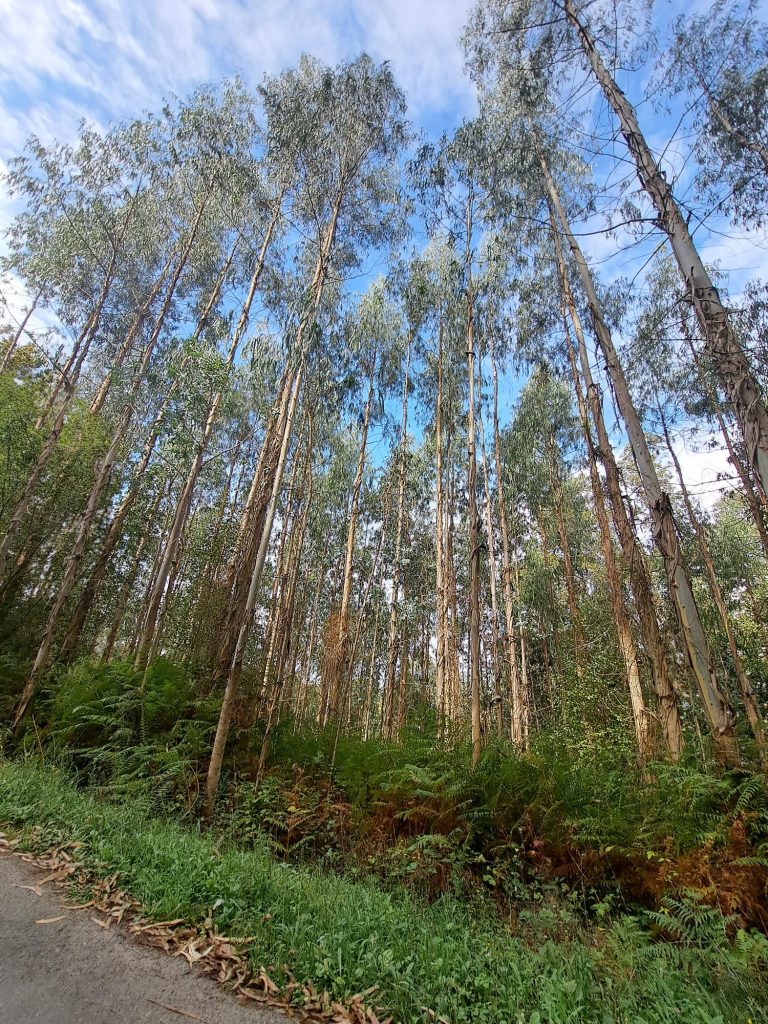 The Eucalyptus Invasion in Galicia
---
Eucalyptus – a plant which is often associated with aromatic smell and essential oils In many countries, including Lithuania, people purchase the eucalypt branches to decorate their homes or make flower bouquets. When I saw this tree in Galicia for the first time, a rather pleasant feeling came to me 'wow it smells so good' – I thought. But little did I know that this invasive species from Australia gives a lot of trouble to the region.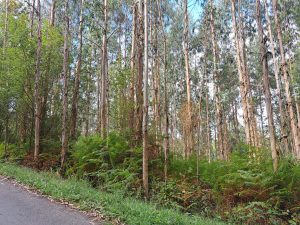 Decades of eucalypt plantations have converted much of Galicia into an Australian forest, simultaneously drying soils, pushing out native flora and fauna (indeed, Galiciant forest is extremely quiet). This combined with forest mismanagement, rural depopulation, and climate change results in often disastrous wildfires.
At very high temperatures, eucalypt species release a flammable gas that mixes with air to send fireballs exploding out in front of the fire. With eucalyptus, you see these ember attacks, with huge bursts of sparks shooting out of the forests.
The eucalyptus, whose presence in Galicia dates back to the mid-19th century, is an invasive alien species that comes from Tasmania and Australia. Its invasive behaviour is due to the great capacity of the stumps to bounce back after forest fires and cuttings, to the large production of seeds with high viability in the natural habitats surrounding the plantations, and to the emission of allelopathic substances into the environment that affect the microbial flora in the soil and prevent the germination of other species.
For decades the Spanish state has encouraged the proliferation of these species as a way of supporting the timber and pulp industry, and rural residents – often ageing and strained by demographic and economic changes which have made the care of land more difficult in modern times – have often welcomed the new income that eucalyptus harvesting represents, signing contracts which allow pulp-mill companies to extract timber from their land.
Galician Society of Natural History and other related organizations demand serious steps from the government to control a further spread of the eucalyptus and start reforestation. However, it is clear that there are social and economic factors involved which makes this difficult process even more complicated. . .
. . .
Eucalipto: una planta que a menudo se asocia con olores aromáticos y aceites esenciales. En muchos países, incluida Lituania, la gente compra ramas de eucalipto para decorar sus casas o hacer ramos de flores. Cuando vi este árbol en Galicia por primera vez, me vino una sensación bastante agradable 'wow, huele tan bien' – pensé. Pero no sabía que esta especie invasora de Australia causa tantos problemas a la región.
Décadas de plantaciones de eucaliptos han convertido gran parte de Galicia en un bosque australiano, al mismo tiempo que secan los suelos y expulsan la flora y la fauna autóctonas (de hecho, el bosque gallego es extremadamente tranquilo). Esto, combinado con la mala gestión de los bosques, la despoblación rural y el cambio climático, da como resultado incendios forestales a menudo desastrosos.
A temperaturas muy altas, las especies de eucalipto liberan un gas inflamable que se mezcla con el aire y hace que las bolas de fuego exploten frente al fuego. Con el eucalipto, ves estos ataques de brasas, con enormes ráfagas de chispas que salen disparadas de los bosques.
El eucalipto, cuya presencia en Galicia se remonta a mediados del siglo XIX, es una especie exótica invasora procedente de Tasmania y Australia. Su comportamiento invasivo se debe a la gran capacidad de rebote de los tocones tras incendios y talas forestales, a la gran producción de semillas de alta viabilidad en los hábitats naturales aledaños a las plantaciones, y a la emisión de sustancias alelopáticas al medio ambiente que afectan la flora microbiana del suelo e impedir la germinación de otras especies.
Durante décadas, el Estado español ha fomentado la proliferación de estas especies como una forma de apoyar la industria de la madera y la celulosa, y los residentes rurales, a menudo envejecidos y presionados por los cambios demográficos y económicos que han dificultado el cuidado de la tierra en los tiempos modernos, a menudo dieron la bienvenida a los nuevos ingresos que representa la cosecha de eucaliptos, firmando contratos que permiten a las empresas de plantas de celulosa extraer madera de sus tierras.
La Sociedade Galega de Historia Natural y otras organizaciones afines exigen al gobierno medidas serias para controlar una mayor expansión del eucalipto y comenzar la reforestación. Sin embargo, está claro que hay factores sociales y económicos involucrados que complican aún más este difícil proceso. . .
You are not allowed to edit this post.