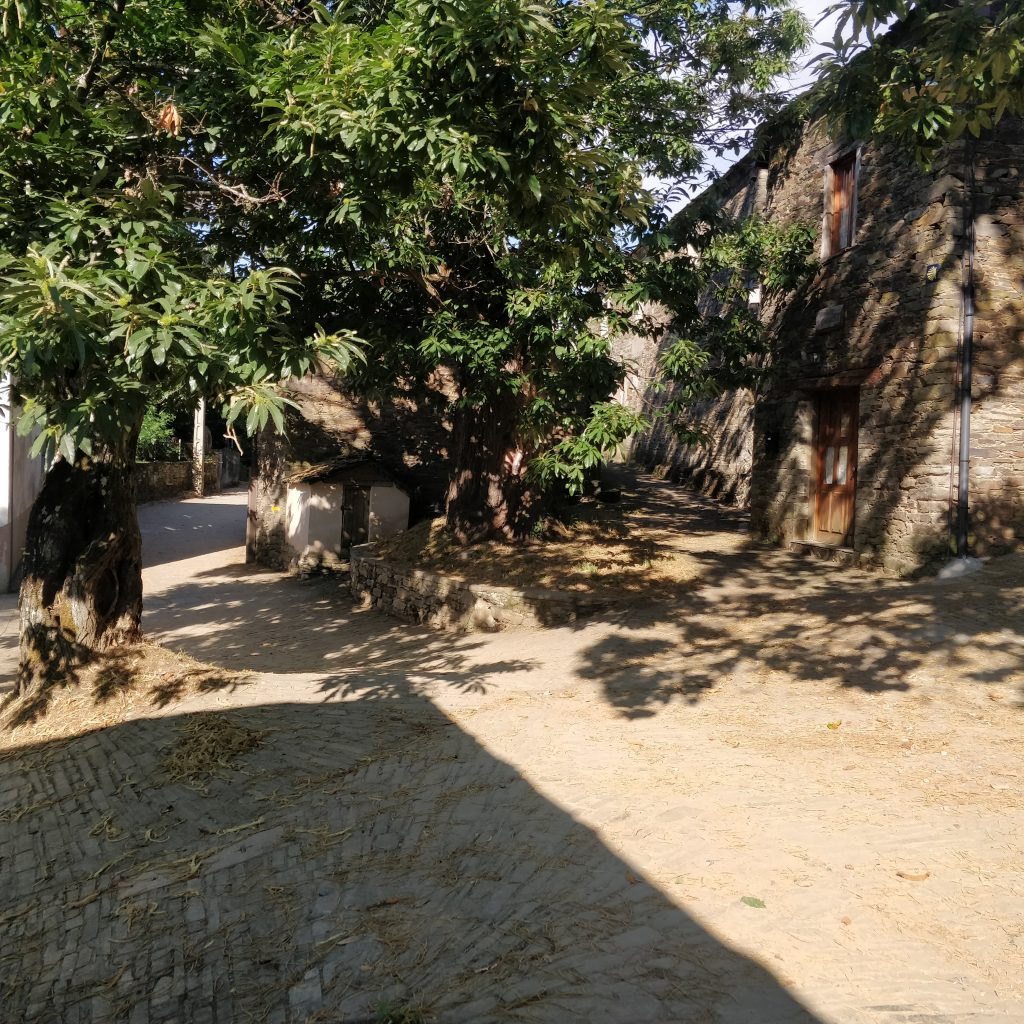 This week was colourful.
---
?? This week me and my amazing group walked on the Camino and looked if it's inclusive (if people with restricted movement can walk it, if people can easily follow direction of Camino). This week we also looked back on the Triacastela pilgrim festival, where we talked and gave t-shirts to pilgrims and locals, we also tasted one of the typical Galician foods – an octopus. This week we also generated ideas of how to make a way better for pilgrims, what information we want to give and what kind of activities we want to organize.
Each day I am learning more about people around me, especially the team I am a part of. I am learning about other cultures, about people's daily life, typical foods, about how others see the world, about their values. I am glad to be a part of this team and be together in Triacastela.
Past week and this week we also had wildfires around us. Some days the sun was covered by smoke and looked red, other days we could see ash in the sky. Now the sky is clear and temperature is lower.
Nature in Triacastela is beautiful. At first Triacastela seemed like a small town, but we keep exploring new places and sides to the town.
??Esta semana, mi increíble grupo y yo caminamos por el Camino y miramos si es inclusivo (si las personas con movilidad reducida pueden caminarlo, y pueden seguir fácilmente la dirección del Camino). Esta semana también hicimos un repaso a la fiesta jacobea de Triacastela, donde hablamos y regalamos camisetas a romeros y vecinos, también degustamos una de las comidas típicas gallegas, un pulpo. Esta semana también generamos ideas de cómo hacer un mejor camino para los peregrinos, qué información queremos dar y qué tipo de actividades queremos organizar.
Cada día aprendo más sobre las personas que me rodean, especialmente el equipo del que formo parte. Estoy aprendiendo sobre otras culturas, sobre la vida cotidiana de las personas, sobre las comidas típicas, sobre cómo ven el mundo los demás, sobre sus valores. Estoy contenta de formar parte de este equipo y estar juntos en Triacastela.
La semana pasada y esta semana también tuvimos incendios forestales a nuestro alrededor. Algunos días el sol estaba cubierto de humo y se veía rojo, otros días podíamos ver cenizas en el cielo. Ahora el cielo está despejado y la temperatura es más baja.
La naturaleza en Triacastela es hermosa. Al principio Triacastela parecía un pueblo pequeño, pero seguimos explorando nuevos lugares y lados del pueblo.
You are not allowed to edit this post.