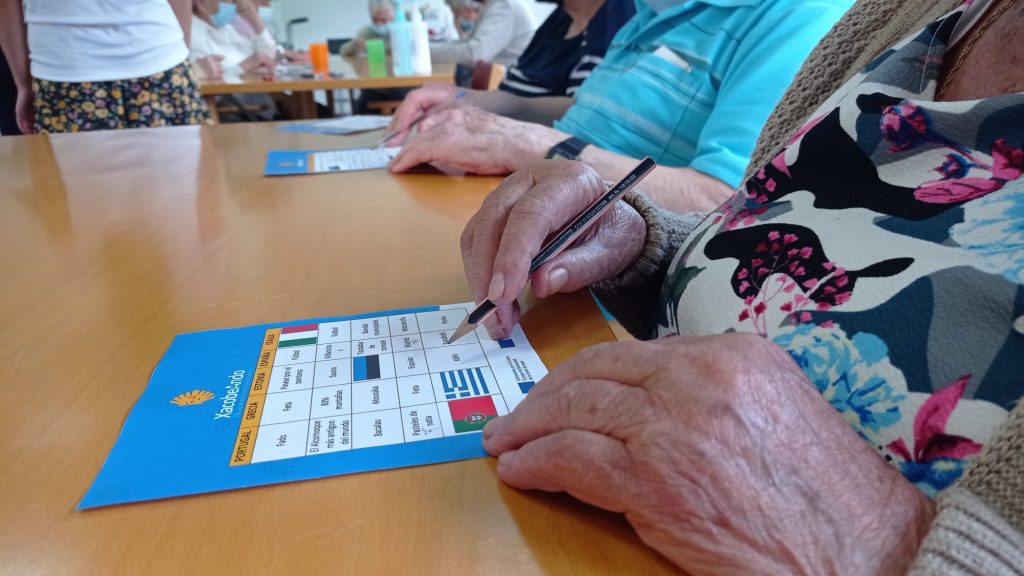 Triacastela visits Palas de Rei
---
?? This week part of the camino frances volunteers – Triacastela and Palas de Rei teams – came together to organize an activity dedicated to the users of Palas de Rei's elderly day care centre.
This activity planning had started the previous week, when we tried to decide and plan what type of activities would be appropriate and practical, considering the age group and the conditions of the day care centre. We eventually decided to prepare a "bingo style" game with words related to the culture and traditions of our 6 different countries, as well as a playlist with traditional music from both our countries and Galicia.
In the end, we had a fun morning sharing experiences and nice moments with the users from the day care centre who also presented us with some traditional galician and spanish songs they enjoy singing.
?? Esta semana parte de los voluntarios del camino francés, los equipos de Triacastela y Palas de Rei, se han unido para organizar una actividad dedicada a los usuarios del centro de día de mayores de Palas de Rei.
Esta planificación de actividades había comenzado la semana anterior, cuando tratamos de decidir y planificar qué tipo de actividades serían adecuadas y prácticas, teniendo en cuenta el grupo de edad y las condiciones de la guardería. Finalmente decidimos preparar un juego "estilo bingo" con palabras relacionadas con la cultura y tradiciones de nuestros 6 países diferentes, así como una playlist con música tradicional tanto de nuestros países como de Galicia.
Al final, pasamos una mañana divertida compartiendo experiencias y buenos momentos con los usuarios de la guardería que también nos presentaron algunas canciones tradicionales gallegas y españolas que les gusta cantar.
You are not allowed to edit this post.