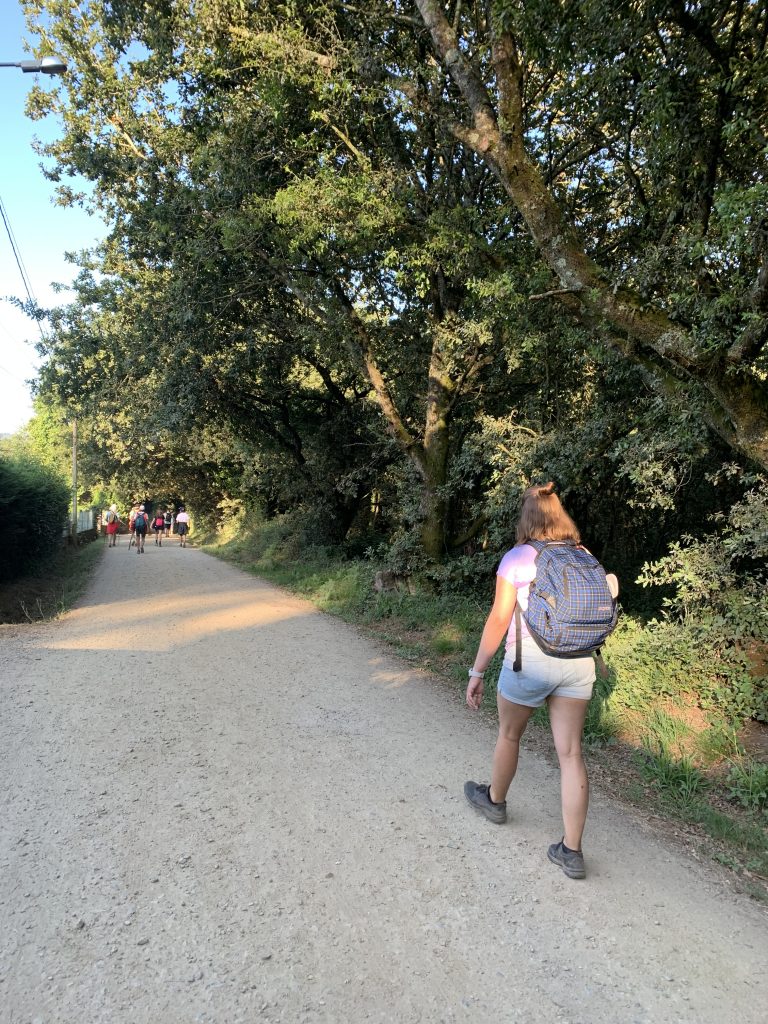 Walk in the footsteps of pilgrims
---
??  Personal experience diary
Together with 2 of my friends from Latvia, I went to enjoy the last 50 kilometers of the French road.
We decided to get up early in the morning to avoid walking during the hottest time of the day. Before that, we had breakfast at a local cafe and had the all-important sip of coffee. While we were enjoying breakfast, we could watch how the most diligent pilgrims got up much earlier than us.
On the first day, we measured a very beautiful stretch of road from Boente to Pedrouzo (O pino). We watched the sun rise reflect in the morning dew drops on the grain fields.
One of my biggest discoveries was a special app for pilgrims that you can put on your phone "Buen camino", it offers a variety of information and a ready-made route for each section of the road, which you can adjust yourself – how long sections of the road you want to go, all the options are also shown there about accommodations. You can even study what the road profile will be, how high the climbs or descents are to be expected. A pleasant surprise was also the spiritual food included in the application – the pilgrim's guide, which offers meditations and reflections for each day of the journey and much more.
The next thing I enjoyed was the mutual friendliness of the travelers and the fact that even after walking for 2 days you already see familiar faces, start a conversation and see a lot in common.
Being on the road and carrying everything you need in your backpack, experiencing how your legs hurt after walking 28 km, spending the evening in a small village and gathering strength for the next day – it's a completely different experience.
We reached Santiago and already started to plan when we can do the full road.
It is an indescribable feeling to walk along a path that millions of other pairs of feet have walked before you for several centuries, and all these people are united in some indescribable way by one thing in common – one goal to get to Santiago.
?? Diario de experiencias personales
Junto con 2 de mis amigos de Letonia, fui a disfrutar de los últimos 50 kilómetros del camino francés.
Decidimos levantarnos temprano en la mañana para evitar caminar durante la hora más calurosa del día. Antes de eso, desayunamos en un café local y tomamos el importante sorbo de café. Mientras disfrutábamos del desayuno, pudimos observar como los peregrinos más diligentes se levantaban mucho antes que nosotros.
El primer día medimos un tramo de carretera muy bonito desde Boente hasta Pedrouzo (O pino). Vimos la salida del sol reflejada en las gotas de rocío de la mañana en los campos de cereales.
Uno de mis mayores descubrimientos fue una aplicación especial para peregrinos que puedes poner en tu teléfono "Buen camino", ofrece una variedad de información y una ruta preparada para cada tramo del camino, que puedes ajustar tú mismo: cuánto tiempo tramos de la carretera a los que quieres ir, allí también se muestran todas las opciones de alojamiento. Incluso puede estudiar cuál será el perfil de la carretera, qué tan alto se esperan las subidas o bajadas. Una agradable sorpresa fue también el alimento espiritual incluido en la aplicación: la guía del peregrino, que ofrece meditaciones y reflexiones para cada día del viaje y mucho más.
Lo siguiente que disfruté fue la amabilidad mutua de los viajeros y el hecho de que, incluso después de caminar durante 2 días, ya ves caras conocidas, entablas una conversación y ves mucho en común.
Estar en la carretera y llevar todo lo que necesitas en la mochila, sentir cómo te duelen las piernas después de caminar 28 km, pasar la noche en un pequeño pueblo y tomar fuerzas para el día siguiente, es una experiencia completamente diferente.
Llegamos a Santiago y ya empezamos a planear cuando podremos hacer el camino completo.
Es una sensación indescriptible caminar por un camino que millones de otros pares de pies han recorrido antes que tú durante varios siglos, y todas estas personas están unidas de alguna manera indescriptible por una cosa en común: un objetivo para llegar a Santiago.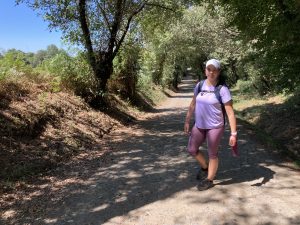 You are not allowed to edit this post.