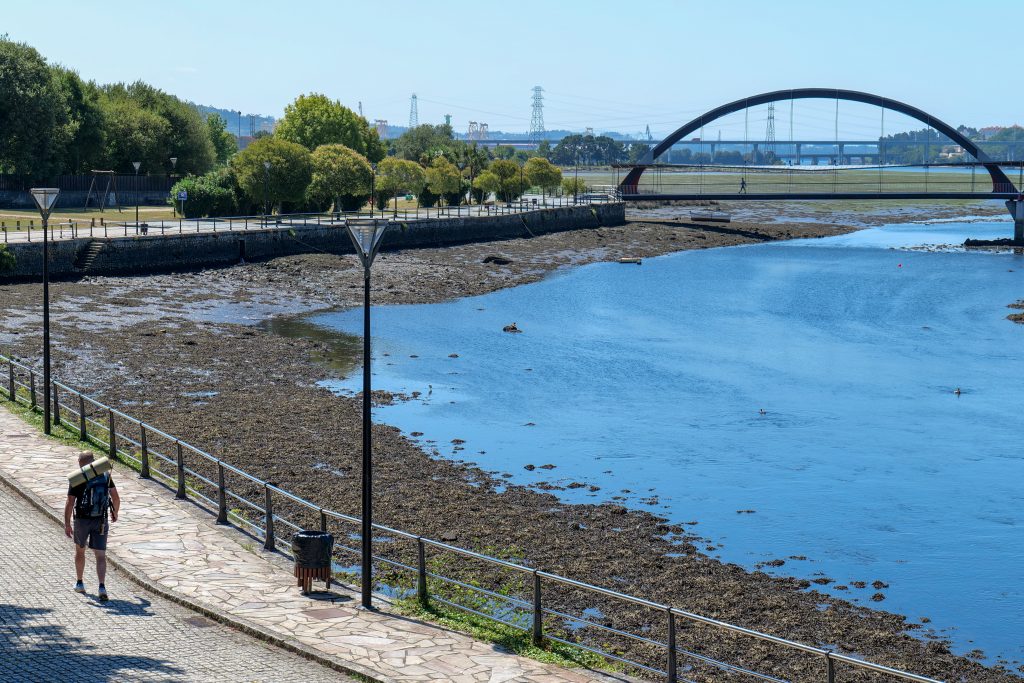 Why Camino Inglés? Part III
---
Adrian from Andalusia – the first pilgrim we interviewed on the 12th of August on the way in Pontedeume! A really nice conversation – half English, half Spanish – in which we learnt that Adrian is walking the Camino for experiencing its rich history and spirituality. The young man was very optimistic and happy about the connections he has made and the beautiful views he has seen on the English Way.
. . .
Adrián de Andalucía – ¡el primer peregrino al que entrevistamos el 12 de agosto de camino a Pontedeume! Una conversación muy agradable, mitad inglés, mitad español, en la que nos ha contado que está recorriendo el Camino para experimentar su rica historia y espiritualidad. El joven se mostró muy optimista y feliz por las conexiones que ha hecho y las hermosas vistas que ha visto en el Camino Inglés.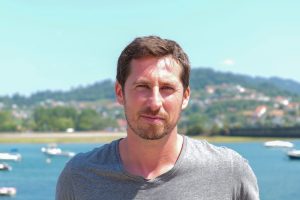 Luis and M. Carmen from Toledo – a mother and son on the way. They came to have this adventure together and bond. Luis has the experience of walking Portuguese Camino and he felt it was religious. This time they want to enjoy the views, water and each other's company. The advice they give: get ready physically and try coming without expectations!
. . .
Luis y M. Carmen de Toledo – un hijo y una madre en camino. Vinieron a tener esta aventura juntos y vincularse. Luis tiene la experiencia de caminar el Camino Portugués y sintió que era religioso. Esta vez quieren disfrutar de las vistas, el agua y la compañía mutua. El consejo que dan: ¡prepárate físicamente e intenta venir sin expectativas!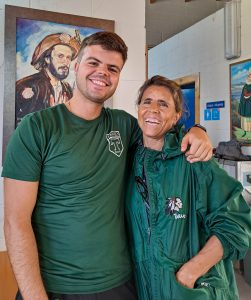 Alberto, Enar and Manuel from Madrid – real veterans of the Camino! They walked the way so many times 10 or 12… cannot even count them all – French, Portuguese, English, Camino de Madrid, Camino de Fisterra… Alberto recalls that back when he started in 2004 it was not so popular and there were much less people than now. His advice: check the route in advance and do some physical training!
. . .
Alberto, Enar y Manuel de Madrid – ¡verdaderos veteranos del Camino! Hicieron el camino tantas veces 10 o 12… no puedo ni contarlos todos – francés, portugués, inglés, Camino de Madrid, El Camino de Fisterra… Alberto recuerda que cuando empezó en 2004 no era tan popular y había mucha menos gente que ahora. Su consejo: ¡consulta la ruta con antelación y haz algo de preparación física!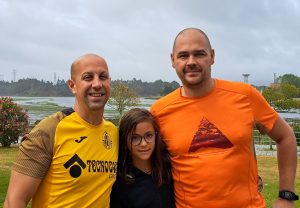 You are not allowed to edit this post.