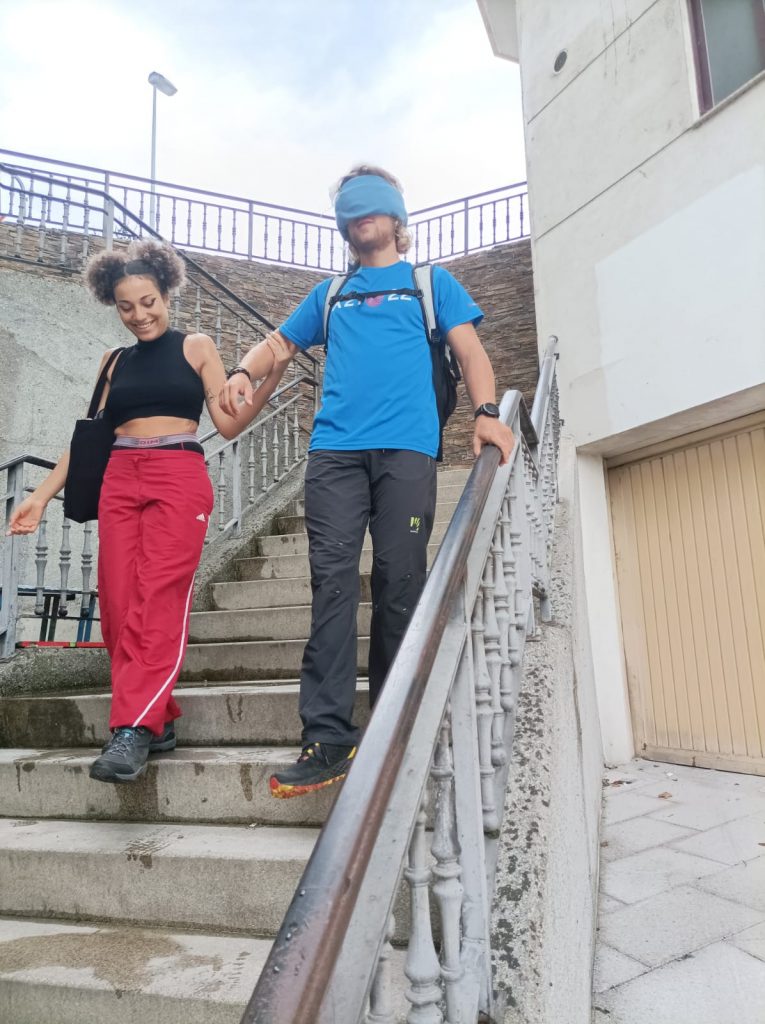 Is the Camino accessible?
---
Yesterday we, the group of volunteers in Lugo, tried to do a part of the Primitive Way without hearing or seeing, to empathize better with the visually impaired and deaf pilgrims and to look for ways to improve their experience on the Camino. 
We were divided into pairs, in which one person could not see and the other served as a guide. In such a way we walked a part of Primitive Way that leads to Lugo. In the middle of the way we switched roles, so everyone could have the opportunity to experience the Camino in a different way. At first it was quite difficult, and our steps were doubtful and unsteady. But after some time, we learned to trust our guides and their instructions more. Although at some point we could only be guided by voice, we managed it. One of the hardest parts was when we were suddenly left alone to cross the bridge blindfolded. There, things became really difficult, and we could only hope that our guides had not left us… On our way back, we experienced the Camino without hearing our surroundings. This was, of course, somewhat easier and familiar to us. But we still felt isolated and exposed to the risks of the street.
We came to the conclusion that there needs to be a certain amount of trust between the disabled pilgrim and their guide in order for the pilgrim to feel safe and comfortable. While the volunteer in the role of the pilgrim experienced all the possible obstacles on the way, the volunteer in the role of the guide learned how to escort and assist people with sensory disabilities.
We have the belief that a blind person needs assistance to do the Camino. What we could do is have auditory information about monuments, braille signs on public taps to help understand if the water is drinkable or not. Also, the arrows that indicate the Way should be made understandable for people with visual impairments. Volunteers could accompany people with sensory disabilities to a part of the Camino.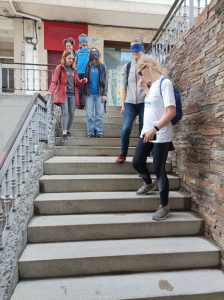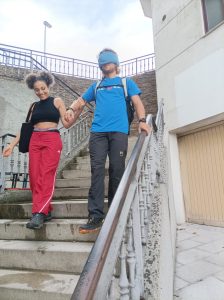 ——————————-
Hoy nosotros, el grupo de voluntarios de Lugo, hemos intentado hacer una parte del Camino Primitivo sin oír o sin ver, para empatizar mejor con los peregrinos ciegos y sordos y buscar formas de mejorar su experiencia en el Camino.
Nos dividimos en parejas, donde una persona no podía ver y la otra servía de guía. Así recorrimos un tramo del Camino Primitivo que conduce a Lugo. En medio del camino intercambiamos roles, para que todos tuvieran la oportunidad de vivir el Camino de una manera diferente. Al principio era bastante difícil y nuestros pasos eran pequeños e inseguros. Pero a continuación confiamos más en nuestro guía y sus instrucciones. Aunque en algún momento  no podíamos sostenerlo, lo conseguimos.  Una de las más difíciles partes fue cuando nos dejaron solos pasar el puente. Allí, la cosa se había hecho realmente difícil y solo esperábamos que nos vieran y no tener riesgo… De regreso, experimentamos el Camino sin escuchar lo que pasaba a nuestro alrededor. Esto fue por supuesto algo más fácil y a lo que estamos más acostumbrados. Pero nos sentimos aislados, y expuestos a los riesgos de la calle.
Llegamos a la conclusión de que debe haber cierta confianza entre el peregrino discapacitado y su guía para que el peregrino se sienta seguro y cómodo.  Mientras el voluntario en el papel de peregrino experimentaba todos los obstáculos posibles en el camino, el voluntario en el papel de guía aprendía a orientar y ayudar a las personas con discapacidad sensorial.
Tenemos la creencia  de que una persona ciega necesita ayuda para hacer el Camino. Lo que podíamos hacer es  tener en forma auditiva informaciones sobre monumentos, signos en sistema braille en los grifos públicos  para entender alguien si el agua es potable o no. También, las flechas que indican el Camino podrían ser de forma comprensible por personas con esta discapacidad. Una buena idea quizás sea haber voluntarios que podrían acompañar a las personas con discapacidad sensorial a una parte del Camino.
You are not allowed to edit this post.