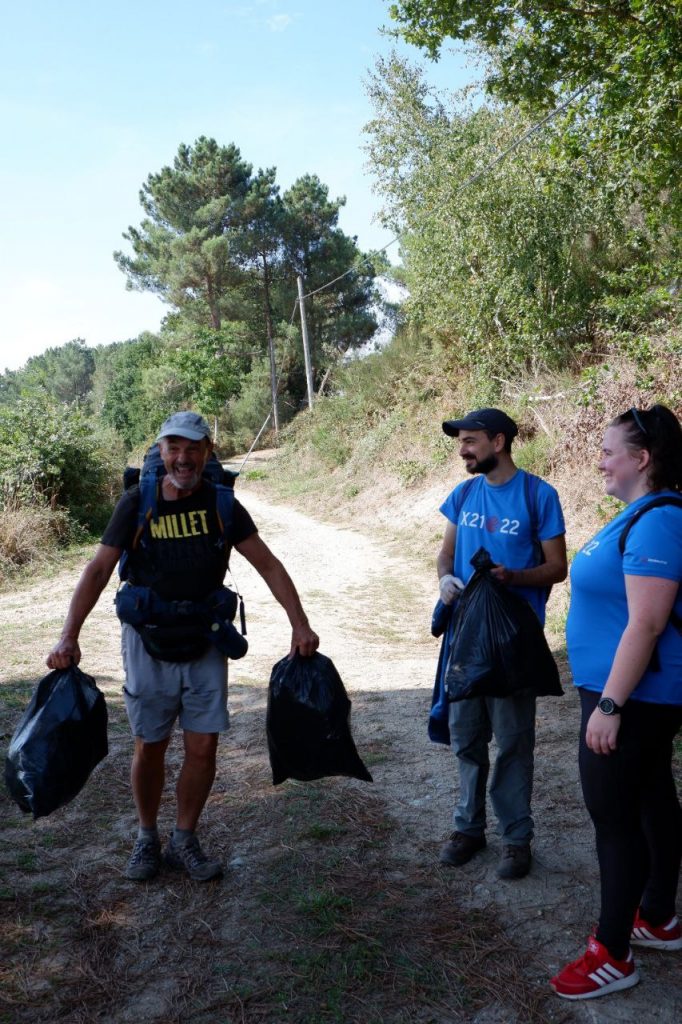 "The essence of the camino is not reaching Santiago…"
---
?? On September 23rd, Chantada team volunteers were picking trash on the section leading to Rodeiro when unexpectedly we met a pilgrim walking the camino in the opposite way.
He stopped by to express appreciation for our work and offered to carry two bags full of trash we had collected to the nearest village. We agreed to meet that evening in Chantada to ask him some questions about his experience so far.
Luciano, 71 years old from Turin, is an old-school pilgrim who prefers walking long trails that keep him away for months and then walks back home -in 2019 he walked 4700km in 4 months-.
Luciano reached Santiago after walking 600km along the Galician coastline and then decided to continue heading to Ponferrada through the Winter way. "The essence of the camino is not reaching Santiago, but the bonds you create with people you meet along the way".
Despite his big backpack and the fatigue he stopped to help us. His kindness, his respect and his empathy were touching.
Buen camino Luciano!
?? El 23 de septiembre, los voluntarios del equipo de Chantada estaban recogiendo basura en el tramo que lleva a Rodeiro cuando inesperadamente nos encontramos con un peregrino que hacía el camino en sentido contrario.
Se detuvo para expresar su agradecimiento por nuestro trabajo y se ofreció a llevar dos bolsas llenas de basura que habíamos recolectado al pueblo más cercano. Acordamos encontrarnos esa noche en Chantada para hacerle algunas preguntas sobre su experiencia hasta el momento.
Luciano, de 71 años, de Turín, es un peregrino de la vieja escuela que prefiere caminar largos senderos que lo mantienen alejado durante meses y luego camina de regreso a casa -en 2019 caminó 4700 km en 4 meses-.
Luciano llegó a Santiago después de caminar 600 km por la costa gallega y luego decidió continuar rumbo a Ponferrada por el Camino de Invierno. "La esencia del camino no es llegar a Santiago, sino los lazos que creas con las personas que encuentras en el camino".
A pesar de su gran mochila y el cansancio se detuvo para ayudarnos. Su amabilidad, su respeto y su empatía fueron conmovedores.
Buen camino Luciano!
You are not allowed to edit this post.